Rely on High-Quality Refrigerated Containers in Huntsville AL
As your business's cold storage needs expand, you need a dependable solution for keeping your items fresh. Refrigerated containers in Huntsville AL can be an invaluable asset for temporary or permanent storage purposes – but finding the right reefers at a cost-effective rate may not always be easy. That is why USA-Containers, LLC offers one of the greatest selections of refrigerated containers available – whether for rent, purchase, or customization!
Why Are Reefers Necessary?
No matter your personal or professional needs, a refrigerated container can be incredibly beneficial. Reefers are not exclusively meant for overseas transportation; they have a wide range of practical applications! Businesses and individuals alike can make use of refrigerated containers in Huntsville AL:
Additional Cold Storage for Businesses

Are you expecting a rush of customers to your restaurant soon? Or are you branching out and upgrading the cold storage at your grocery store? If so, we have the perfect solution for all your refrigeration needs. A reefer container can serve as an ideal long or short-term choice! Whether it's basic or custom-designed, any business that requires its products to stay fresh will find reefers essential.

Portable Storage for Outdoor Events

Are you worried about keeping food and drink fresh for your patrons at fairgrounds, music festivals, sporting events or any other outdoor event? Have no fear: reefers are here! Refrigerated containers are ideal for catering and concessions as they keep perishable goods cool, crisp and fresh. With reefers on hand, nothing is stopping you from providing the freshest fare to guests throughout your event.

Emergency Cold Storage

No matter the location in America, natural disasters are always a possibility. And when living in Alabama, hurricanes are some of the worst natural disasters you can incur. Should disaster strike suddenly and without warning, first responders need immediate access to food supplies, medicine, water and other necessary items for survival – which is why refrigerated containers come in handy during such scenarios.
To Rent or Purchase? The Choice is Yours!
In the US, particularly in Alabama, reefer containers are some of the most sought-after equipment! Luckily, USA-Containers, LLC is here to help with a wide selection of refrigerated units available for purchase or rental. We guarantee that each container we deliver has been tested rigorously before it leaves our location – so you won't have to worry about its condition. Furthermore, we offer customization options like interior shelving, roll-up doors, custom temperature gauges, walk-in freezer doors, and more. And if time is an issue and you require temporary refrigerated storage solutions right away – check out our amazing Ice-Cubz containers!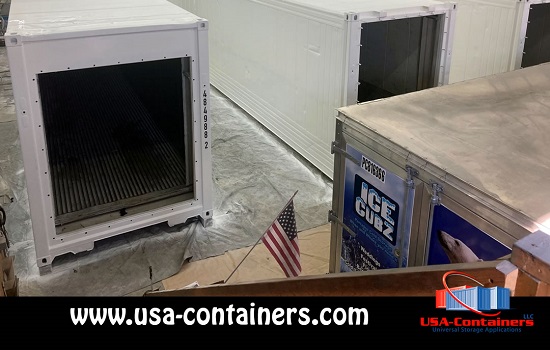 Call Today
Looking for the perfect refrigerated containers in Huntsville AL? Make it easy on yourself and let USA-Containers, LLC be your go-to source. Don't forget that we also provide dry storage and customized shipping containers! Contact us today at 877-391-4064 or come see us at 1069 Township Road 1950 East, Smithshire, IL 61478 to learn more about our selection of top-quality reefer solutions.