Meet Your Cold Storage Needs with the Best Refrigerated Containers for Montgomery AL
For many businesses, commercial refrigeration is a must. Pharmacies and grocery stores alike require cold storage to keep their food, medicine and other perishable items fresh. Installing new walk-ins or freezers can be pricey though – especially if you only need additional space for a short period. Fortunately, USA-Containers, LLC has the perfect solution! With our selection of top-quality refrigerated containers in Montgomery AL available to rent or purchase – there's no better way to increase your business' cold storage capability quickly and affordably!
Reefers' Best Features
With the many cold storage options available, refrigerated containers are in a league of their own regarding benefits. If you are assessing which form of cold storage would be most suitable for your business now and into the future, investing in a reefer could be one of your smartest moves.
Completely Portable

The only way to guarantee that your perishable goods remain fresh during a long journey is by using refrigerated containers. Reefers are designed with advanced temperature control technology, ensuring that items don't spoil as they traverse across Alabama. With portable reefer storage, it's simpler to move supplies or even set up cold storage in outdoor environments for events.

Advanced Temperature Control

Your refrigerated container is designed with excellent insulation to help maintain a steady temperature over vast distances. It can accommodate any product – from as cold as -30 degrees F up to 80 degrees F! You can trust that your reefer will meet the needs of your goods, no matter what their ideal storage conditions are.

Excellent Cost Savings

If you're in the market for new cold storage, purchasing a reefer is much more affordable than installing a new freezer or walk-in cooler. Refrigerated containers from Montgomery AL provide the same benefits as traditional cold storage but with less cost and effort involved during installation. Plus, if your needs are temporary, you can rent instead of buying -something that isn't available when it comes to other cold storage solutions.
Can Your Industry Use a Reefer?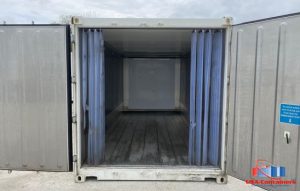 USA-Containers, LLC has been a lifesaver to many businesses in need of cold storage. We've proudly served industries and enterprises with our affordable, custom refrigerated containers, ranging from restaurants to medical clinics to dairy farms. If your company is searching for the best cold storage solutions in Alabama, you can count on us! Industries and businesses best served by our reefers include:
Restaurants
Grocery Stores
Food Distributors
Food/Meat Processing Facilities
Pharmacies
Medical Facilities
Florists
And More
Contact Our Office
Secure your cold storage needs with dependable, refrigerated containers in Montgomery AL from USA-Containers, LLC! From rentals and purchases to customized shipping containers, our knowledgeable team is here to help. Contact us at 877-391-4064 or visit 1069 Township Road 1950 East, Smithshire, IL 61478 today.