Keep Your Cold Storage Current with Refrigerated Containers in Birmingham AL
As an entrepreneur whose business relies on selling and shipping perishable items, you recognize the need for dependable cold storage solutions. Nonetheless, commercial freezers or walk-in coolers may not be the most convenient or affordable solution to your temperature control needs. Allow USA-Containers, LLC to assist you in finding top-notch refrigerated containers in Birmingham AL – whether for rental or purchase! With a reefer tailored exactly to what you're looking for, rest assured that all your cold storage requirements are covered.
What Are Your Reefer's Best Benefits?
Refrigerated containers are the perfect choice if you're seeking a fast and cost-effective way to maintain freshness in your perishable products. Reefer containers offer all the benefits of standard cold storage solutions with even more advantages.
Efficiency

Refrigerated containers are essential to maintaining a temperature-controlled atmosphere for extended distances and time periods. Every unit is designed with pinpoint accuracy for managing temperatures without external influences. Constructed airtight, reefer units can range from -30 degrees F up to 80 degrees F, making them resilient and highly efficient in temperature control.

Portability

An issue with traditional walk-in coolers is that they are not portable. This might be fine if you're only keeping your perishable items in one location. Yet a reefer is the ideal option if your business involves transporting or distributing goods. With the right trucks and equipment, our refrigerated containers are easy to transport – perfect for restaurants and concessions operating outside their primary facility!

Affordability

Affordable yet effective refrigerated containers in Birmingham AL are a cost-effective alternative to other cold storage solutions. Installing new cold storage can be expensive and time-consuming; opting for a reefer unit saves you from these worries! And if your cold storage needs require only short-term accommodation, USA-Containers, LLC offers rental options – making our units the perfect solution for any of your cooling requirements.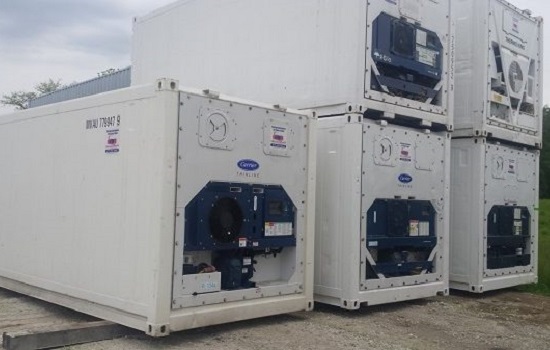 Does Your Business Need a Reefer?
Absolutely! USA-Containers has been helping Alabama businesses discover the perfect cold storage solutions for their short- and long-term needs. We have assisted a number of customers in this industry, including:
Restaurants
Grocery Stores
Pharmacies
Medical Facilities
Florists
Food Distributors
Food/Meat Processing Facilities
And More
Give Us a Call
If your business requires cold storage, USA-Containers, LLC's refrigerated containers in Birmingham AL are the answer! Reach us at 877-391-4064 to enquire about our reefer units for purchase or rent. Our main office is located at 1069 Township Road 1950 East, Smithshire, IL 61478. Secure temperature control solutions have never been so easy!