Where Can You Find Refrigerated Containers in Alabama?
Are you searching for refrigerated containers in Alabama? If so, you might find your search challenging. Reefer containers are in popular demand in the Cotton State and throughout the U.S. To this end, USA-Containers has actively sought and acquired high-quality reefers throughout the country, making purchase or rental easy for Alabama residents. USA-Containers has you covered if you require cold storage for transporting and caring for delicate and perishable goods.
Where Can You Find Our Reefers?
Refrigerated containers are used across multiple businesses and industries. Whether as a temporary cold storage solution or a permanent addition to your on-site refrigeration, businesses throughout Alabama can take advantage of refrigerated containers' convenience, affordability, durability, and portability. Examples of some common businesses that can find a use for refrigerated containers include:
Hospitals/Medical Facilities
Florists
Pharmacies
Electronics Manufacturers
Food Distributors
Food/Meat Processing
Grocery Stores
Restaurants
Construction Companies
And More
How Will You Use Your Container?
Is your reefer only needed for seasonal outdoor events? Did you need a refrigerated container to stand in for broken cold storage while it's repaired? Or are you needing permanent new storage for perishable goods? Whatever your refrigeration needs are, USA-Containers can oblige with reefer rental and purchase options:
Rental – As mentioned, some cold storage needs are only seasonal or for emergencies. In either case, USA-Containers' reefer rentals are your best choice. You can rent any of our refrigerated containers, including our specialized Ice-Cubz containers (perfectly designed for catering and outdoor event usage).
Purchase – If your cold storage needs are more than seasonal, USA-Containers has plenty of options for refrigerated container purchases. We have dozens of reefers of varying sizes, each easily customizable by our metal fabrication crew. If interested, you can equip your reefer with customization options like roll-up doors, smart temperature controls, interior shelving, etc.
Other Than Reefers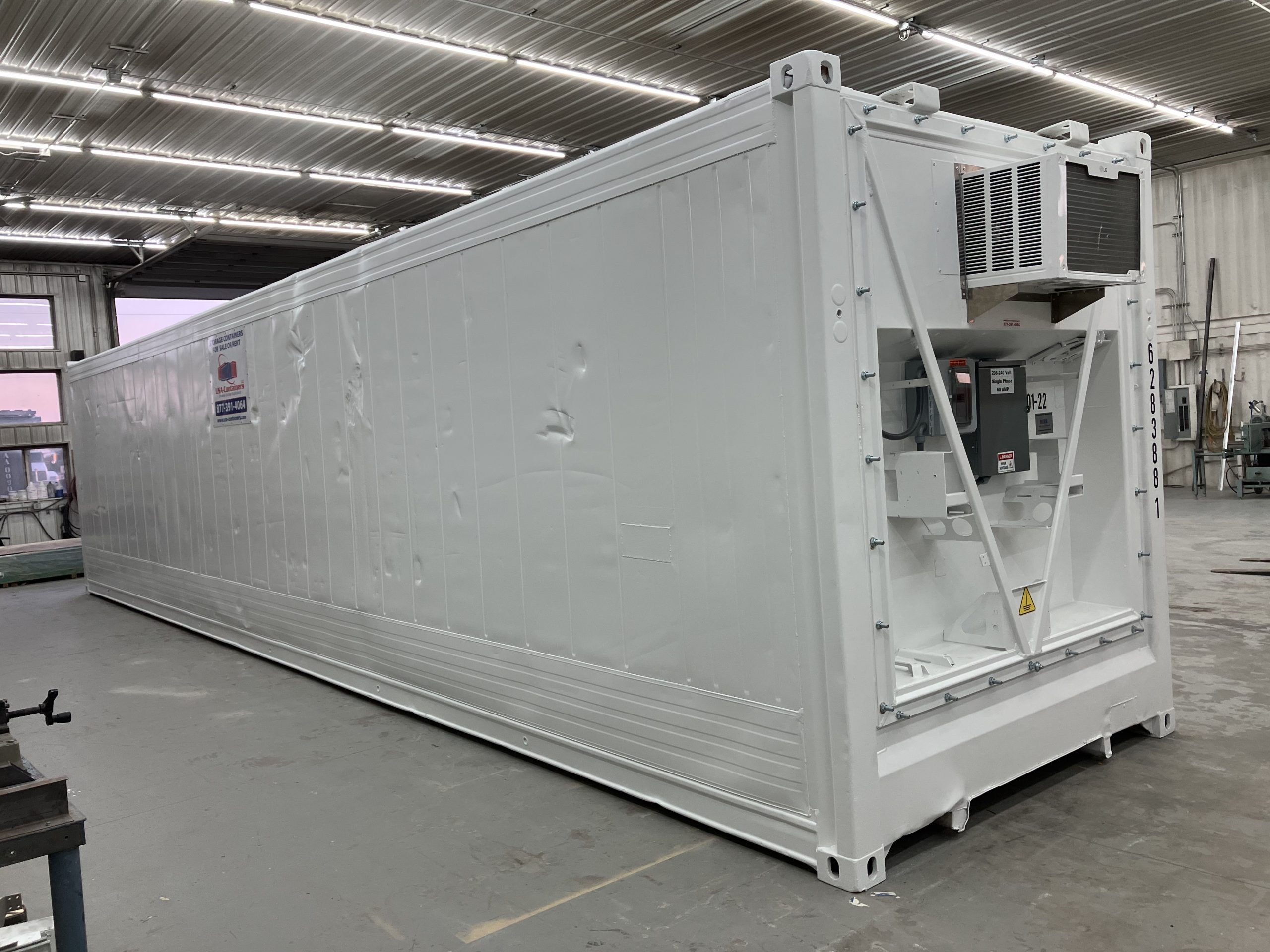 Refrigerated containers in Alabama aren't the only container type USA-Containers rent and sell. Our selection of dry shipping containers is unmatched in Alabama, and throughout the U.S. Our shipping containers provide the most storage options for businesses or individuals. Also, we can customize your shipping containers, turning them into functional and versatile structures used as offices, cattle pens, kennels, grow rooms, and more.
Give Us a Call
Don't stress over where you will find refrigerated containers in Alabama. Instead, trust the reefer experts at USA-Containers to find you the best refrigerated containers for rent or purchase. To learn more about our reefers or additional container products, contact us today at 877-391-4064. Our main office is located at 1069 Township Road 1950 East, Smithshire, IL 61478, serving clients throughout the United States.