Where Can You Purchase or Rent Refrigerated Containers in Texas?
The need for refrigerated containers in Texas is almost as large as the Lone Star State itself! Thankfully, finding affordable and high-quality reefers isn't an issue through companies like USA-Containers LLC. Our team can supply businesses and individuals with refrigerated containers to rent or purchase. Those in search of reefers require the containers for their ability to efficiently store and transport significant quantities of produce, pharmaceuticals, electronics, and other perishable hoods or delicate devices.
Who Can Use Cold Storage?
Many businesses in Texas and the rest of the United States require cold storage, more than most people realize. The need to preserve food, medical supplies, and fragile equipment is prevalent in most industries. As such, USA-Containers' reefer units are the best option for durability, security, and flexibility. The businesses that rely on cold storage include:
Restaurants
Grocery Stores
Food/Meat Processing
Food Distributors
Pharmacies
Hospitals/Medical Facilities
Electronics Manufacturers
Construction Companies
Florists
And More
Which is Your Best Option: Rental or Purchase?
If your business needs additional cold storage temporarily or for an extended period, USA-Containers can assist. We have reefer units available for rental and purchase to meet your needs. We aim to make refrigerated containers in Texas and the Southern United States more accessible where demand is high.
Container Purchase – If you're struggling to store items that need to be kept cold with your current walk-in coolers and freezers, consider adding a refrigerated container to your facility. We have containers in different sizes and dimensions available for purchase, allowing you to expand your cold storage options. We also offer customization options to suit your business needs. For instance, our team of skilled metal fabricators can set up custom roll-up doors and shelving for your unit.
Container Rental – If you only need cold storage for short periods, renting a reefer container is the best option. We offer containers of various sizes and dimensions for both purchase and rental. Additionally, we have special reefers like Ice-Cubz that are great for outdoor events, catering, or festival concessions. When your cold storage needs are immediate, and you don't want to break the bank, USA-Container's rental reefer units have you covered.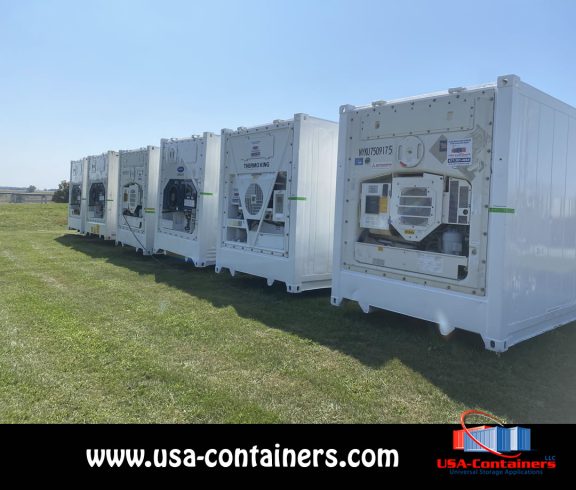 Besides Reefers
USA-Containers sells and rents dry shipping containers, which serve as ideal storage units for businesses and individuals. Additionally, our company can customize these containers and turn them into unique and functional structures like small offices, concession stands, portable bars, cattle pens, and more. This is in addition to the refrigerated containers we offer for businesses in Texas.
Give Us a Call
With help from USA-Containers, businesses can find the perfect refrigerated containers in Texas without worrying over price, quality and supply! To learn more about our reefer rentals and purchases, contact us at 877-391-4064. USA-Containers' main office is located at 1069 Township Road 1950 East, Smithshire, IL 61478, serving clients throughout the United States.