Expand Your Cold-Storage with Refrigerated Containers in Dallas TX
As businesses adapt to growing consumer and customer demands, having product storage is a must! However, for goods that require a temperature-controlled environment, not just any storage will cut it. And standard cold storage can often be time-consuming and expensive for a facility to install. For these reasons, many Texas industries that rely on cold storage count on USA-Containers. Find flexible and affordable refrigerated containers in Dallas TX with USA-Containers!
What Can Be Kept in Your Reefer?
Reefer units aren't limited to food products; delicate and perishable goods can be safely secured in a refrigerated container! As such, you can find reefers utilized across a wide range of industries, providing effective cold storage for businesses like restaurants, pharmacies, grocery stores, florists and more. Some of the products you can preserve and protect with reefers include:
Food & Drink – To ensure customers don't buy expired products and become sick, storing temperature-sensitive food items properly is necessary so they don't spoil quickly.
Construction & Manufacturing Machinery –Refrigerated containers are designed to endure severe winds and temperatures during international transportation. Therefore, they are highly beneficial for industries that require sturdy and resilient storage solutions. Contractors, for instance, use reefers to store tools or heavy machinery.
Delicate Equipment & Electronics – Sensitive parts, electronics, and equipment can suffer damage from extreme temperatures and outdoor moisture. However, a reefer container provides a reliable solution to keep such items safe and secure.
Medicine & Medical Supplies – Certain medications and antibiotics may lose their potency if not stored under proper temperature-controlled conditions. Additionally, certain medical supplies exhibit enhanced efficacy when stored in refrigerated conditions.
And More – The sky's the limit for your reefer containers! From protecting delicate electronics to keeping flowers for prom fresh, reefers provide excellent cold storage for unlimited goods!
Should You Rent or Purchase Your Reefer?
At USA-Containers, we acknowledge that every business has unique cold storage requirements. While some establishments might only need extended cold storage during peak seasons, others may need permanent solutions. Fortunately, we offer our refrigerated containers in Dallas TX for rent or purchase. Our Ice-Cubz containers are ideal for outdoor events and catering, making them the perfect rental units. On the other hand, our other reefers can be bought and personalized with features such as roll-up doors and interior shelving.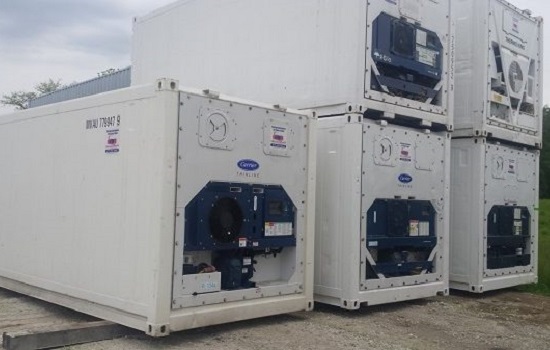 Contact Our Office
Expanding your facility's cold storage shouldn't be hindered by cost, time, or complexity. The solution? Invest in refrigerated containers in Dallas TX from the trusted shipping container experts at USA-Containers. For more information about our reefers, as well as custom and dry shipping containers, please contact us at 877-391-4064. Our main office is at 1069 Township Road 1950 East, Smithshire, IL 61478, and we cater to clients across the United States.