Do You Require Local, High-Quality Refrigerated Containers in Rapid City SD?
Businesses throughout South Dakota are on the hunt for effective cold storage solutions! While standard walk-in freezers and coolers can provide you with the cold storage you need, there are more affordable and versatile options. For example, refrigerated containers in Rapid City SD offer businesses excellent, portable cold storage space for a fraction of the cost of walk-in cooler installation. And this isn't the only benefit to purchasing or renting reefers; call USA-Containers to learn more!
A Reefer's Best Features
Affordability and portability are two features already mentioned in USA-Containers reefers. However, these are only two aspects of our refrigerated containers. Businesses rely on our high-quality containers due to their durability, protection, longevity, precise temperature controls, and rental/purchase options.
Durable – Reefers are built tough and designed to withstand the harsh conditions of overseas travel. This same toughness lends to the durability of refrigerated containers while on land. No severe storms, extreme winds, or temperature fluctuation can impact the strength and resistance of USA-Container's reefers.
Portable – If designed for durability, reefers were also designed for portability, having to travel long distances across the sea. And now your reefers can be used for long or short-distance travel across the state! Unlike traditional cold storage solutions, refrigerated containers can transport delicate or perishable goods.
Safe – Not only will your goods stay safe from anything outside while in a reefer, but they will stay fresh and protected in a temperature-controlled environment. Our refrigerated containers are airtight and can manage all ranges of temperatures for safe storage. Whether storing delicate electronics or produce that can easily spoil, you can count on reefers.
Affordable – Although walk-in coolers and freezers are an effective cold storage solution, they're also the most expensive. Not only is refrigeration equipment a hefty investment, but the renovation and installation to place your new freezer will take significant time and money to complete. Conversely, reefers are significantly more affordable and don't require expensive installation.
Convenient – Do you need more cold storage, but only temporarily? Or are your cold storage needs more permanent? Whether you need refrigerated short-term or long-term storage, USA-Containers can happily oblige with reefer rental and purchase options.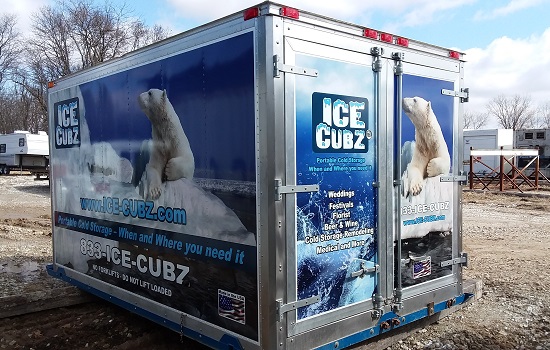 How USA-Containers Can Help
USA-Containers offers high-quality refrigerated containers to Rapid City SD residents for either rent or purchase. Both options allow organizations or individuals to cater their container selections based on their shortened or extended need for cold storage solutions. For example, for those only needing temporary storage or cold storage for outdoor events, our Ice-Cubz containers are an excellent option. Otherwise, we offer reefer purchases for containers of all sizes and with customization options, including interior shelving, roll-up doors, and more.
Talk with Our Team
When you're ready to discuss the best cold storage options for your facility, consider the advantages of renting our purchasing refrigerated containers in Rapid City SD. To learn more about USA-Containers and our reefers or other shipping containers, contact us today at 877-391-4064. Our main office is located at 1069 Township Road 1950 East, Smithshire, IL 61478, serving clients throughout the United States.