Where to Find Refrigerated Containers in South Dakota
If business owners have one desire in the Mount Rushmore State, it's the ability to find reefer containers for an affordable price. Thankfully, USA-Containers is making this possible! We offer refrigerated containers in South Dakota for either rent or purchase. Those most interested in reefers will find them helpful in storing and transporting delicate and perishable goods such as produce, pharmaceuticals, electronics, and more.
Can Your Business Benefit from Cold Storage?
The short answer: yes! There are few industries that don't have use for reefer containers. Whether as permanent cold storage or climate-controlled transportation, our refrigerated containers are unmatched in their utility and durability. Examples of businesses that can most benefit from our containers include:
Restaurants
Food/Meat Processing Facilities
Grocery Stores
Food Distribution Centers
Hospitals/Medical Facilities
Pharmacies
Construction Companies
Electronics Manufacturers
Florists
And More
Which is Better: Purchase or Rental?
Although more affordable than other cold storage solutions, refrigerated containers in North Dakota are still a significant investment. As such, USA-Containers offers our reefers for either rent or purchase. Let USA-Containers help advise you on whether rental or purchase is right for you.
Rental – If you rent a reefer, you can do so at affordable rates. Rental refrigerated containers work best for individuals or businesses only requiring cold storage in the short term. We have dozens of rental containers, including our Ice-Cubz containers. Ice-Cubz units are some of our most popular reefer rentals, great for catering, festivals and outdoor events.
Purchase – Reefer purchase is more beneficial for those requiring cold storage for longer periods or as a replacement for other cold storage solutions. Reefers are significantly more affordable than installing walk-in coolers or freezers for your facility. And if you're looking for more out of your refrigerated containers, USA-Containers offers customization options like roll-up doors, smart temperature controls, interior shelving, and more.
Other Options
Or, if reefers aren't what you or your company needs, USA-Containers has hundreds of dry and custom shipping containers for rent or purchase. We partner with manufacturers, shipping companies and retailers throughout the United States to bring South Dakota residents the largest selection of used shipping containers. And if interested, we can customize your dry containers into unique structures, such as offices, cattle pens, concession stands, work sheds, etc.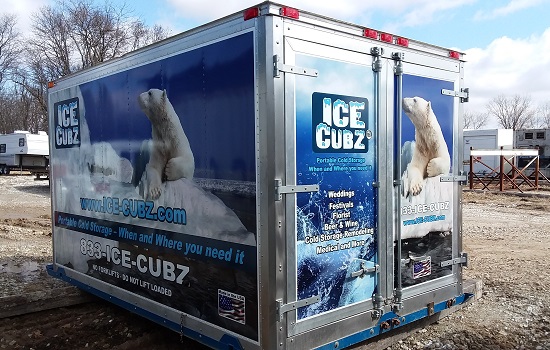 Give Us a Call
Between availability and affordability, USA-Containers has the widest selection of refrigerated containers for South Dakota, all for reasonable prices. If interested in our reefer rentals and sales, or you'd like to see more of our dry and custom shipping containers, contact USA-Containers today at 877-391-4064. Our main office is located at 1069 Township Road 1950 East, Smithshire, IL 61478, serving clients throughout the United States.