In Need of Refrigerated Containers in Sioux Falls SD?
The demand for refrigerated containers is on the rise! Businesses everywhere in South Dakota or throughout the U.S. are looking for easier ways to manage their cold storage without breaking the bank or investing in less-than-ideal cold storage solutions. Thankfully, there's an answer to your cold storage woes: refrigerated containers in Sioux Falls SD! Track down the best refrigerated containers in your area with help from USA-Containers.
Why Do You Require a Reefer?
Reefer containers aren't your business's only option for cold storage. However, having a portable, ready-to-use refrigerated container has its benefits. If you  believe refrigerated storage containers to be your best cold storage solution, here are some reasons why so many people choose reefers over in-place refrigeration units:
Transportation of Perishable Goods

Reefers are built to travel long distances; how else do you think they manage overseas trips? And for your business, portable cold storage can be beneficial when transporting perishable goods from place to place. Whether for a company event, as an order/delivery, or trying to supply a facility with new products, you can take advantage of the portability of refrigerated containers.

Safe, Durable, and Dependable

A refrigerated shipping container's strength, durability and longevity are never in question! Reefers are built tough and can handle extreme winds, severe storms, and all temperature conditions. Anything you store in a refrigerated container will stay safe, fresh and secure. Furthermore, our reefers are thoroughly inspected before shipping to ensure they are airtight and functioning as they should.

Temporary or Permanent

Using refrigerated containers in Sioux Falls SD offers businesses more flexibility in cold storage solutions. For example, what if your business needs new cold storage for the coming summer, but you know business will drastically drop off once the season ends? In such an instance, having a reefer as temporary cold storage is your best option. Unfortunately, temporary isn't an option with traditional walk-in coolers or freezers.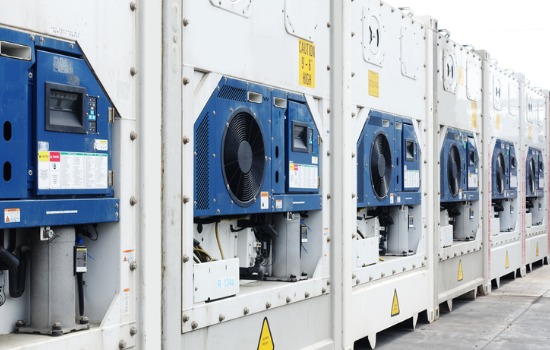 Find Containers for Rent or Purchase
To meet the refrigeration needs of our clients, USA-Containers offers high-quality, custom refers for rent or purchase. Now, if you only need extended refrigeration temporarily, you won't be stuck with an overly expensive cold storage solution! With our reefer rentals, you can select from any of our refrigerated containers, including our Ice-Cubz rentals (best for outdoor events and catering). Or, if needing a "more permanent" cold storage solution, USA-Containers sells all sizes of containers, with customization options including roll-up doors, smart temperature controls, interior shelves, and more.
Give Us a Call
Reefers are key to the function of many crucial businesses throughout South Dakota. If you need refrigerated containers in Sioux Falls SD, contact USA-Containers by calling 877-391-4064. Our main office is located at 1069 Township Road 1950 East, Smithshire, IL 61478, serving clients throughout the United States.