Count on USA-Containers for the Best Refrigerated Containers in Brookings SD
As your facility struggles to meet consumer demands, your need for extended cold storage grows! The extra space cold storage affords you can help your business stays stocked up on all necessary products, ensuring everything stays safe and fresh. However, traditional cold storage solutions can be expensive and difficult to set up. Thankfully, there's an alternative: refrigerated containers in Brookings SD! Contact USA-Containers today if you are interested in reefers for your business or personal use!
How to Utilize Your Reefer
No matter your cold storage needs, a refrigerated container offers security, durability and flexibility. Whether as a permanent addition to your facility, or a unit used to transport goods, USA-Containers can help you maximize the usage of your reefer. Examples of some best uses for refrigerated containers include:
Cold Storage Expansion

Unfortunately, it can be challenging to upgrade existing on-site cold storage. Renovating and updating walk-in coolers and freezers takes a lot of time and money. However, a refrigerated container will fit the bill if you require a more affordable cold storage expansion. Reefers are easy to set up and long-lasting, ensuring your needs for more permanent cold storage are met.

Temporary Storage Solution

What if your cold storage needs are only temporary? If such is the case, refrigerated containers are your best option! A reefer allows your facility to expand its cold storage but not invest in a long-term expansion. Often, refrigerated containers are used by businesses during summer seasons, when outdoor events are more likely. Or, reefers can be used temporarily in an emergency cold-storage breakdown.

Perishable Goods Transportation

As long as your company has the right trucks and trailers, your reefer unit can effectively transport perishable goods. A refrigerated container can protect the products at most risk of damage, spoilage, etc., in a temperature-controlled environment for any distance. After all, reefers were designed to be transported overseas; they can easily handle travel across the state!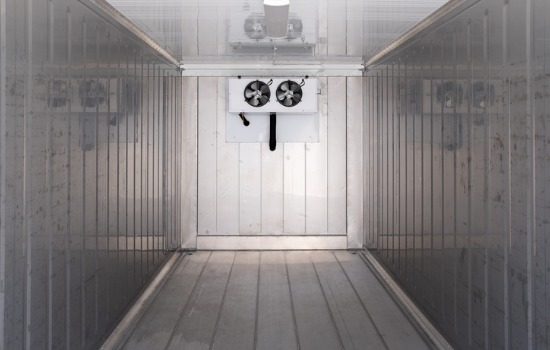 Our Rental or Purchase Options
At USA-Containers, we cater our containers to our client's precise needs. For this reason, we offer both reefer rental and purchase for those requiring either temporary or permanent cold storage. You can select from any of our refrigerated containers in Brookings SD to rent or purchase. Our rentals range in all types and sizes and include our specialized reefer containers: Ice-Cubz, perfect for outdoor catering and events. And if your cold storage needs are longer term, you can purchase and customize a reefer with roll-up doors, interior shelving, and additional features.
Talk with Our Team
When your facility's cold storage needs are urgent, find the best refrigerated containers for Brookings SD, with help from USA-Containers. To learn more about our reefers or other shipping container options, contact us at 877-391-4064. Our main office is located at 1069 Township Road 1950 East, Smithshire, IL 61478, serving clients throughout the United States.