Your Trusted Providers of Refrigerated Containers in Aberdeen SD
Finding affordable, decent-condition reefers and shipping containers have become more challenging. Unfortunately, shipping concerns worldwide have made containers in South Dakota higher in demand! Thankfully, with the help of the container experts at USA-Containers, you can easily find high-quality, reasonably-priced refrigerated containers in Aberdeen SD, for rent or purchase. Discover your preferred cold storage solution with USA-Containers.
Best Uses for Your Reefer
Refrigerated containers can store various products, parts, goods and equipment. A reefer's durability and precise climate control make it the ideal storage for your business's most essential products. As such, USA-Containers has seen our containers used for a variety of storage purposes, including storage for:
Vaccines, Medicines & Pharmaceuticals – Life-saving medicines and vaccines must be kept under controlled temperatures, ensuring they stay fresh and cold. Otherwise, if kept in less-than-ideal temperature conditions, your pharmaceuticals can lose their potency or effectiveness and place patients' lives at risk.
Food, Produce & Perishable Goods – If you are a grocery store manager or restaurant owner struggling to meet product demand, reefers are a great addition to your cold storage. Refrigerated containers can keep all your food, produce, and perishable goods fresh, extending their shelf-life and ensuring minimal spoilage.
Electronics – Even delicate electronics can benefit from storage in a refrigerated container. Adverse temperatures or poor weather conditions can negatively impact advanced technology. However, keeping equipment in a temperature-controlled environment can ensure nothing breaks or no malfunctions occur due to outside influences.
Industrial Machinery – More durable equipment (such as construction or industrial machinery) can also take advantage of a reefer's climate-controlled nature. Contractors often utilize refrigerated containers during commercial and residential projects to keep crucial machines and equipment safe and protected while not in use.
And More – From your local florist to popular catering companies, refrigerated containers in Aberdeen SD can provide the best protection, portability, and climate control of any other cold storage solution.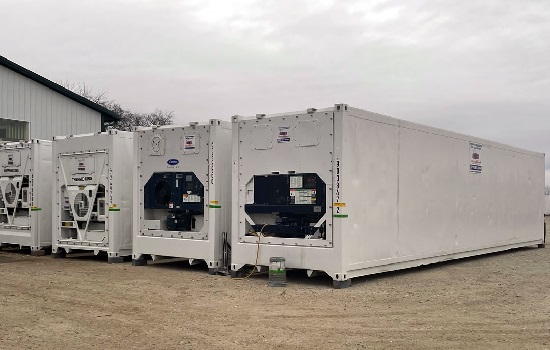 Reefer Availability
Do you only need a refrigerated container during your business's busy season for a few months? That's not a problem for USA-Containers! With dozens of reefers of all shapes and sizes, we provide clients with reefer rental services to avoid a long-term investment in extended cold storage. For example, our Ice-Cubz containers are some of our best container rentals, perfect for catering and outdoor events! Also, if looking for more long-term cold storage, you can purchase and customize our reefers with features like smart temperature controls, interior shelving, exterior roll-up doors, and more.
Call Today
USA-Containers deals in the largest quantity of refrigerated containers for Aberdeen SD, and throughout South Dakota. If you require an affordable, temporary/permanent cold storage solution, you can depend on USA-Container's high-quality reefers. To learn more about our reefers or additional shipping container options, call us at 877-391-4064. Our main office is located at 1069 Township Road 1950 East, Smithshire, IL 61478, serving clients throughout the United States.