Take Advantage of High-Quality Refrigerated Containers in Omaha NE
As consumer demands grow, the need for businesses to safely and conveniently keep perishable goods has grown too! Thus, more and more businesses are looking for new cold-storage solutions. Unfortunately, traditional cold storage can be challenging to install, and reefers are sometimes hard to come by. For these reasons, USA-Containers has proudly gathered some of Nebraska's most reefer containers for businesses to rent or purchase.
Putting Reefers to Good Use
Refrigerated containers can be for more than keeping food fresh! The durability, portability and convenience of reefer units allow for incredible flexibility for businesses seeking improved cold storage capabilities. Some of the benefits of owning or renting a reefer include:
Ease of Use

When setting up your new reefer, the process is relatively quick and easy. Compared to walk-in coolers or freezers, where extensive installation is required, refrigerated containers can be up and functional within hours. Such ease of use is incredibly helpful in scenarios where your facility's cold storage needs are urgent.

Affordability

Due to some of the time and labor required to install in-house freezers, traditional cold-storage solutions can be costly. The equipment alone is already more than what a refrigerated container might cost. Not to mention, you must pay for any remodeling to house your freezer, alongside labor fees for installation. Reefers, thankfully, have no extra costs to maintain or install.

Portability

One of the reefers' biggest advantages over traditional cold storage is their portability. Refrigerated shipping containers are commonly used to transport delicate and perishable goods across most distances. Reefers can keep interior temperatures consistent in any environment, meaning portable units can also be set up where cold storage isn't otherwise accessible.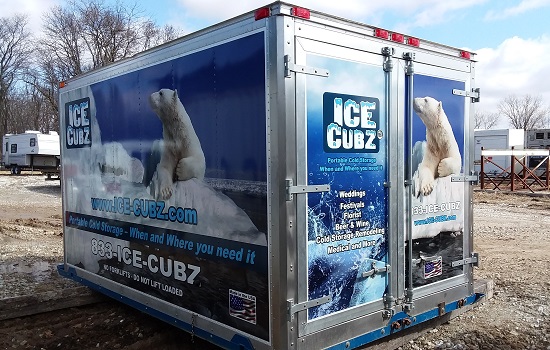 Meeting Your Storage Needs
In addition to refrigerated containers for Omaha NE, USA-Containers offers our custom and dry shipping containers for rent or purchase. Clients can choose from our dozens of shipping containers to rent, with unique units like the Ice-Cubz, perfect for catering and outdoor events. Otherwise, the dry containers and reefers you purchase are fully customizable. We can upgrade your refrigerated unit with features like computerized temperature controls, interior shelving, exterior roll-up doors, and more.
Learn More
Invest in the best refrigerated containers for Omaha NE by discussing reefer rental or purchase with USA-Containers. To learn more about our refrigerated, dry or custom container options, contact us today at 877-391-4064. We are located at 1069 Township Road 1950 East, Smithshire, IL 61478.