Refrigerated Containers for Fargo ND You Can Count On!
Finding reliable yet affordable refrigerated containers in Fargo ND can be challenging for any business. With reefers in short supply, North Dakota businesses have difficulty securing units to rent or purchase. Thankfully, USA-Containers is here to help! We negotiate directly with retailers and shipping companies, so we always have the widest selection of refrigerated containers available. If interested in purchasing or renting a reefer, reach out to USA-Containers today!
How Your Business Can Benefit from Reefers
There's a great deal a business relies on refrigerated storage for. Especially for businesses a part of the service or healthcare industries, refrigerated containers have incredible usefulness as temporary or permanent cold storage solutions. As such, your business might utilize reefers for:
Expanded Cold Storage

Organization and storage are key components of a successful business. However, resolving your lack of storage becomes a top priority when you run out of space for your perishable goods. Thankfully, a refrigerated container can provide you with all the temperature-controlled space you need. Especially when your storage needs are urgent, a reefer can be up and running within hours of delivery.

Temporary Cold Storage

If extra cold storage is only something you need for short periods, reefer rental might be more advantageous for your refrigeration situation. USA-Containers' refrigerated container rental is the perfect fit for businesses during busy seasons, participating in outdoor events, or trying to keep goods fresh when permanent storage breaks down. Additionally, reefer rental costs significantly less compared to container purchase.

Mobile Cold Storage

Suppose all of your business's operations occur on-site; whether you purchase a reefer or permanent cold storage matters less. However, reefers are your only option if you require transportation for perishable or delicate goods. Made to travel overseas, refrigerated containers are some of the safest, most durable, and most efficient shipping containers available. With the right trucks and equipment, a reefer is the perfect mobile cold storage unit.
Our Reefer Options
When selecting a refrigerated container in Fargo ND from USA-Containers, we have dozens of different types and sizes of units to rent or purchase. USA-Containers strives to offer the greatest selection of containers compared to other container companies throughout the United States. With specialized units like our Ice-Cubz containers, or customization options for all our reefers, you're sure to find your perfect refrigerated container.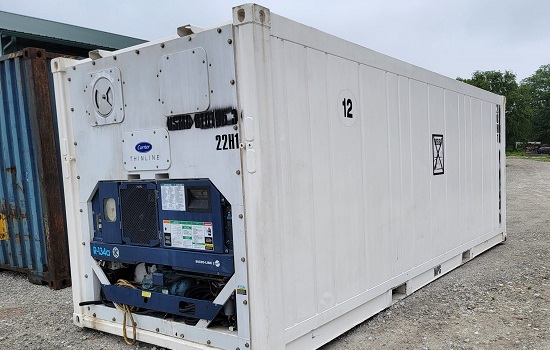 Talk with Our Team
The long search for high-quality, affordable refrigerated containers in Fargo ND is over! Businesses can rely on USA-Containers' excellent selection of reefers to rent or purchase. Or, if interested in more than reefers, see what dry or custom containers we offer! To learn more or request a quote, contact us today at 877-391-4064. Our main office is located at 1069 Township Road 1950 East, Smithshire, IL 61478, serving clients throughout the United States.