Looking for Refrigerated Containers in Bismark ND? USA-Containers Can Help!
If you're in the market for refrigerated containers in Bismark ND, you've likely discovered the lack of availability. Although shipping issues have begun to ease, containers of all types are still in short supply but in high demand. Thankfully, if purchasing or renting containers through USA-Containers, you can find the precise units you require. We work with shipping companies, manufacturers and retailers across the US to give North Dakota residents direct access to the best available reefers.
Reefers' Best Features
When comparing refrigerated containers to other cold storage solutions, it's hard to discount a reefer's incredible usefulness. Not only do refrigerated containers perform all the functions of standard walk-in coolers and freezers, but they're more convenient, portable, and affordable! Some of a refrigerated container's best features include:
Utility

Once your walk-in freezer is installed, it's only good for keeping goods cold at that location. Conversely, reefers have some excellent utility, usable in perishable goods transportation. The standard reefer is built tough, having to endure harsh oversea conditions. As such, refrigerated containers are the best cold storage transportation units.

Convenience

A lot goes into installing new cold storage for your facility. Not only will serious contracting and remodeling be required, but it can take weeks to months to install a walk-in cooler or freezer successfully. On the other hand, reefers can be set up and ready to use within hours. As a self-contained refrigeration unit, a reefer container offers the same function as permanent cold storage but in a more compact and convenient package.

Affordability

Set-up of permanent cold storage isn't only time-consuming, but it's expensive! It can cost upwards of $10,000 or more to install a new walk-in cooler or freezer. Instead, if you have a budget to consider, opt for a refrigerated container. Purchasing a refrigerated container is significantly more affordable than installing new permanent cold storage. And you can save even more if you choose to rent your reefer.
Containers to Rent or Purchase
To give our customers the most options when selecting refrigerated containers in Bismark SD, we offer our reefers to rent or purchase. If renting a refrigerated unit, we offer dozens of different sizes and makes of containers, as well as our specialized unit: the Ice-Cubz container. Or, if your cold storage needs are more permanent, you can purchase a reefer and customize it with features like roll-up doors, smart temperature controls, interior shelving, and more.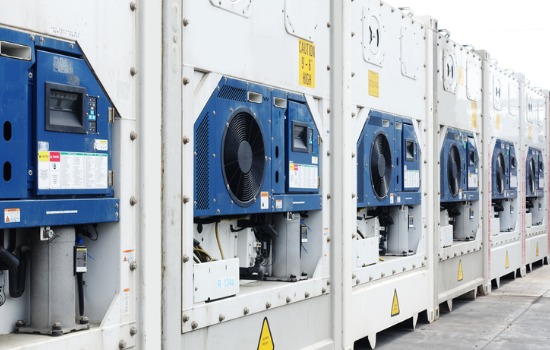 Contact Our Office
Refrigerated containers for Bismark ND are no longer out of reach for your company! Find the reefers you require with help from the container experts at USA-Containers. To learn more about our reefers or additional container options like our dry or custom units, call 877-391-4064. Our main office is located at 1069 Township Road 1950 East, Smithshire, IL 61478, serving clients throughout the United States.