Purchase or Rent Refrigerated Containers in North Dakota
Many businesses throughout the Peace Garden State require one thing: refrigerated containers! Reefers are in high demand throughout the US, making it difficult to find one for an affordable price. Thankfully, USA-Containers can meet the need for refrigerated containers in North Dakota. Our reefers are for rent or purchase and perfect for transporting or storing produce, pharmaceuticals, electronics and other perishable or delicate goods.
Where Can Reefers Be Used?
While every business can benefit from a refrigerated container, only a few businesses and industries rely on reefers and permanent cold storage for daily operations. Whether for storing perishable goods, transporting delicate components, or acting as a temporary solution to replace broken refrigeration units, your business can count on reefers' durability and efficiency. The businesses that most rely on refrigerated containers include:
Hospitals/Medical Facilities
Florists
Pharmacies
Electronics Manufacturers
Food Distributors
Food/Meat Processing
Grocery Stores
Restaurants
Construction Companies
And More
Temporary or Permanent?
Unlike walk-in coolers or freezers, refrigerated containers don't require extra construction and complicated installation to set up. As such, reefers work great as either temporary cold storage or a permanent cold storage solution. USA-Containers has dozens of container options for clients to rent or purchase, depending on your cold storage needs.
To Rent – If you only need refrigerated storage temporarily, reefer rental is your best option. USA-Containers has rented our containers to businesses for seasonal storage, emergency cold storage, outdoor events, and more. Our Ice-Cubz units, for example, are specially designed to accommodate those requiring refrigeration for catering, festivals, concerts, and other outdoor events.
To Purchase – If you're looking for a comparable but affordable alternative to traditional cold storage, USA-Containers has high-quality reefers for sale. Rather than trying to set up permanent walk-in coolers, a refrigerated container can be ready within hours of delivery. Furthermore, USA-Containers can equip your container with custom features like roll-up doors, interior shelving, digital temperature controls, etc.
Looking for More?
If you're looking for more than refrigerated containers in North Dakota, USA-Containers is happy to oblige! We offer affordable, high-quality dry and custom shipping containers to rent or purchase. Our shipping containers are the perfect storage units for individuals and businesses alike. Additionally, suppose you want more out of your shipping container. In that case, USA-Containers' expert metal workers can customize your containers for uses like bars, concession stands, single offices, animal pens and more.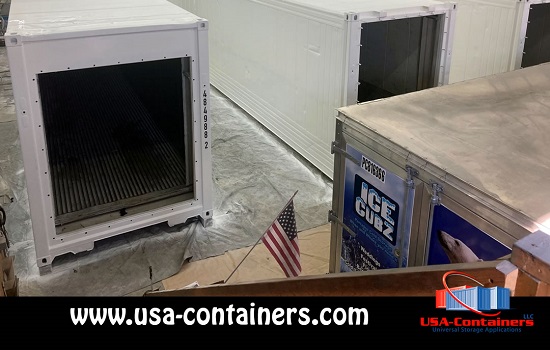 Call Today
Avoid the hassle of tracking down quality and decently-priced refrigerated containers in North Dakota. Instead, count on the incredible selection of reefers to rent or purchase supplied by USA-Containers. To learn more about our container rental, purchase and customization, contact us today at 877-391-4064. Our main office is located at 1069 Township Road 1950 East, Smithshire, IL 61478, serving clients throughout the United States.