Where You Can Find Refrigerated Containers in Iowa
If you live in the Hawkeye State, reefers are readily available for businesses and individuals alike! You can find the best refrigerated containers in Iowa for rent or purchase through USA-Containers. Refrigerated containers are excellent for transporting our storing produce, pharmaceuticals, electronics, and other perishable or delicate goods. Call USA-Containers today to discuss your options for refrigerated containers.
Meeting Your Business's Cold Storage Needs
You'd be surprised to find out the number of businesses that utilize cold storage as part of their daily operations. And in Iowa, cold storage's necessity is no different! However, installing large refrigeration units isn't manageable for every company. Thus, many industries rely on the convenience and portability of reefers. Whether a temporary or permanent solution to your cold storage woes, the businesses that can best utilize refrigerated containers include:
Food Distributors
Food/Meat Processors
Restaurants
Grocery Stores
Florists
Pharmacies
Medical Facilities
Ownership or Rental
As mentioned previously, a refrigerated container can act as a temporary or permanent solution to cold storage. USA-Containers offers multiple options for container rental or purchase, depending on your desired use for reefers.
Ownership – Requiring a refrigerated container for an extended period warrants the need to purchase your unit. Thankfully, USA-Containers has numerous container options to fit nearly any budget. You can select from varying sizes of reefers and choose multiple container customization options. For example, our expert metal fabricators and welders can equip your reefer unit with roll-up doors, interior shelving, custom temperature gauges, walk-in freezer doors, and additional custom features.
Rental – Perhaps you only need extra cold storage over the summer months, or your current cold storage is in the midst of repair. In these or similar scenarios, USA-Containers has various container options for rent. Also, we offer our special Ice-Cubz containers for those needing more compact refrigeration storage. Our Ice-Cubz units are perfect for wedding catering, fairs, festivals, and other outdoor events.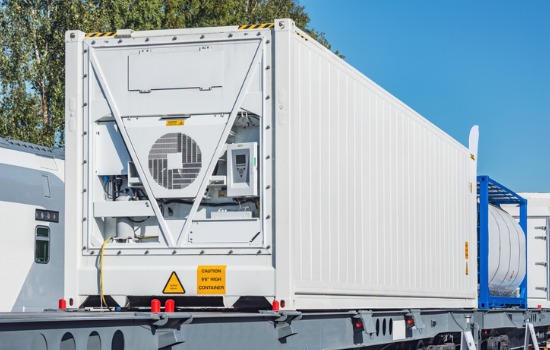 See Our Shipping Container Collection
Refrigerated containers in Iowa aren't the only containers we sell and rent. At USA-Containers, we connect our clients with custom or as-is dry shipping containers for affordable prices. Each unit is made from all-steel and provides excellent protection against moisture, temperature and pests. Furthermore, we offer customization options for every unit if you wish to utilize your shipping container for a unique purpose. We've built custom containers for clients to function as offices, maintenance sheds, animal pens, concession stands, and more.
Give Us a Call
Don't struggle to search for the best options for refrigerated shipping containers in Iowa. Ensure you're getting high-quality, affordable and customizable reefers from the shipping container experts at USA-Containers. To ask about renting or purchasing reefers or dry containers, contact us today at 877-391-4064. Also, we are located at 1069 Township Road 1950 East, Smithshire, IL 61478. We presently sell our containers in all major Iowa metros, including Des Moines, Cedar Rapids, Davenport, and more.