Secure Cold Storage with Refrigerated Containers for Davenport IA
Having reliable cold storage is crucial for the operation of many businesses. For restaurants and grocery stores, keeping food fresh is essential for the health and safety of customers. For pharmacies, keeping medicine safe, secure and preserved ensures patients can get the medical help they need. And for these businesses, when cold storage is in high demand, a fast and effective solution is refrigerated containers for Davenport IA. Talk with USA-Containers today to discuss options for reefer purchase or rental.
Why Businesses Love Reefers
Although there are plenty of options for commercial cold storage, many businesses prefer the benefits of refrigerated containers. Here are some of reefers' best features and why you might prefer this cold storage option yourself:
Precise Temperature Controls

As refrigerated containers were constructed to travel significant distances, each unit features the ability to maintain consistent and low temperatures. Reefers can reach temperatures as cold as -30 degrees F to as warm as 80 degrees F. Additionally, temperatures can be precisely controlled, allowing for adjustments to temperature within a degree.

Convenient Transportation

After refrigerated containers have made their trek across the sea, they can continue to offer convenient transportation of perishable goods well after landfall. Businesses utilize reefer units to ship goods between locations or extend services beyond the limits of standard cold storage equipment. For getting medicine to area hospitals or food at a local fair, refrigeration containers are one of the few ways to move perishable goods.

Saves Money

While refrigerated containers for Davenport IA are still a significant investment, they are much less so than standard cold storage equipment. The initial cost you pay to install walk-in freezers and coolers can reach tens of thousands of dollars. Conversely, USA-Container's reefers offer the same features as other cold storage equipment but for a fraction of the cost.
Reefers to Fit Your Needs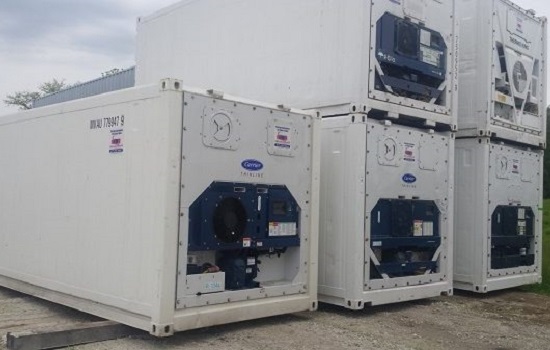 The options for refrigerated containers from USA-Containers are numerous. Through our partnerships and contacts, we can secure varying sizes of refrigeration units, many available for customization. Our metal fabricators and professional welders can equip custom reefers with smart temperature controls, roll-up doors, interior shelving, and much more. Or, if you need a "less" permanent cold storage solution, we offer rental for all our units.
Contact Our Office
As your business decides on the best way to manage cold storage, consider the ease, convenience and affordability of refrigerated containers for Davenport IA. To learn more about our reefers or other shipping containers, contact USA-Containers today at 877-391-4064. Also, we are located at 1069 Township Road 1950 East, Smithshire, IL 61478.