Bet on USA-Containers, LLC for the Best Refrigerated Containers in Gulfport MS
Are you or your business struggling to find a suitable cold storage solution in Mississippi? If so, don't fret; you're not alone! Many businesses require cold storage, which can be costly and difficult to install. Even refrigerated containers in Gulfport MS have proven hard to come by due to high demand. Luckily, USA-Containers, LLC has the expertise and network needed to help clients find the reefer units they need. Get in touch with our container experts today to discuss buying or renting portable cold storage.
The Best to Offer from Reefers
If your business needs to store a lot of perishable goods, cold storage like walk-in coolers or freezers can help prevent contamination or spoilage. But, it's not always feasible to invest in permanent cold storage. Luckily, refrigerated containers in Gulfport, MS, provide a convenient and cost-effective solution.
Simple Cold Storage Transportation

Reefers and walk-in freezers share similar functions. However, reefers have the advantage of being portable, unlike walk-in freezers. Hence, for some businesses, it is essential to have a portable option for their cold storage needs. Reefers are specifically designed to safely transport perishable and delicate goods over long distances, making them an ideal choice for events like concessions, wedding catering, festivals, etc.

Quick and Convenient Set-Up

If you want to expand your facility to include permanent cold storage, installing and setting up walk-in freezers can be time-consuming. On the other hand, reefer units can be up and running within a few hours of delivery. Refrigerated containers are self-contained, making it easy to have reliable cold storage without requiring a lengthy installation process.

The Ideal Cost for Cold Storage Solutions

Refrigerated containers are a popular choice for businesses because they are more cost-effective than permanent cold storage. Installing walk-in freezer hardware can be costly, and upgrading your facility to include permanent cold storage can also be expensive. Conversely, renting or buying a reefer unit costs only one price and is comparably less expensive than other cold storage solutions. Investing in reefers can help businesses save even more money.
Refrigerated Containers Matched to Your Needs
USA-Containers, LLC allows our clients the ultimate flexibility in choosing refrigerated containers. Whether your commercial refrigeration needs are temporary or permanent, we have the perfect units for rent or purchase. For example, if purchasing a reefer, we are equipped to provide customization options like interior shelving, roll-up doors, smart temperature controls, and more. Additionally, reefer rentals allow clients to utilize reefers for the short periods they need them most. Our Ice-Cubz containers are specially designed for temporary usage and best utilized at outdoor events and catering.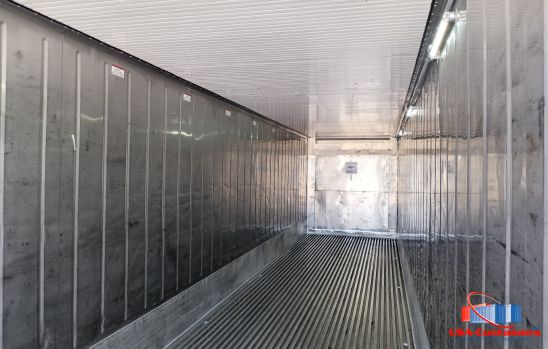 Call Today
If you're looking for top-quality refrigerated containers in Gulfport, MS, contact the reefer experts at USA-Containers, LLC. For more information on our dry, custom, and rental container options, call 877-391-4064. We are located at 1069 Township Road 1950 East, Smithshire, IL 61478.