Achieve the Best in Commercial Refrigeration with Refrigerated Containers in Jackson MS
There's no limit to the refrigeration needs of businesses throughout Mississippi! From restaurants to pharmacies to florists, keeping perishable goods safe and secure is essential for many local industries. However, finding reliable commercial refrigeration isn't always easy. Thankfully, USA-Containers, LLC can help! We supply businesses with the largest selection of refrigerated containers for Jackson MS, and throughout the state. To learn about options for reefer rental or purchase, call today!
Best Uses for Your Reefer
If you need cold storage, a refrigerated container is an excellent solution. Our reefer units can cater to your temporary or long-term storage needs and are perfect for both portable and in-place refrigeration. Our clients have purchased or rented our refrigerated containers for various reasons, including:
Portable Cold Storage

Transporting perishable and delicate goods can be difficult, especially if you don't have the proper means to keep them fresh. Without refrigerated containers, your products may become spoiled or damaged. Fortunately, portable cold storage units like reefers can make all the difference. Whether you must transport medicines to a hospital or keep food fresh at an outdoor event, we have your cold storage solutions.

Urgent Replacement Cold Storage

USA-Containers, LLC's refrigerated container rentals are the best option if you require immediate cold storage. If your walk-in cooler or freezer breaks down unexpectedly, you can rely on a reefer to maintain your products' freshness while your on-site cold storage gets fixed. Additionally, reefers are the fastest and most effective way to offer disaster relief if there is flooding, tornadoes, hurricanes, or any other severe weather condition in your area.

Highly Secure Cold Storage

When using refrigerated containers in Jackson MS, you can rely on their strength and security. The initial design of reefers was meant to handle harsh weather conditions overseas. This same durability that protects goods from severe winds and external moisture helps ensure delicate equipment, crucial supplies, important documents, perishable products and more can be stored in a reefer without fear of damage, spoilage or break-in.
Choose Reefers to Rent or Purchase
USA-Containers, LLC offers a variety of refrigerated containers in multiple sizes and dimensions to meet any business's cold storage needs. Whether looking for long-term cold storage solutions or something more temporary, USA-Containers, LLC offers flexibility with reefer sales and rental. For example, our Ice-Cubz units are perfect to rent for outdoor events or catering. Or, if you choose to purchase a unit, you can customize it with options such as interior shelving, roll-up doors, smart temperature controls, and more.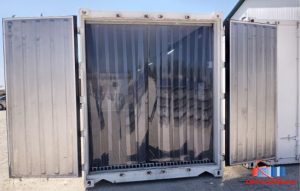 Contact Our Office
If you're looking for refrigerated containers in Jackson MS, you can find what you need with USA-Containers. We have a range of reefers available for both rental and purchase. You can learn more about our reefers and our dry and custom containers by contacting us at 877-391-4064. USA-Container's main office is located at 1069 Township Road 1950 East, Smithshire, IL 61478, serving clients throughout the United States.