Count On Refrigerated Containers in Southaven MS
Does your business require the refrigeration of perishable goods daily? Do you require more ways to safely and reliably keep and transport your perishable goods? Are you looking for more affordable refrigeration methods than standard on-site cold storage? Refrigerated containers in Southaven MS are the answer to all your questions! And if you are looking for the best reefers in Mississippi to rent or purchase, call USA-Containers today.
How Can You Use Your Reefers?
Refrigerated containers, also known as reefer containers, are highly desirable equipment for various industries in the United States, serving purposes such as storage, facility expansion, or transportation. Regardless of your business, refrigerated containers can be helpful for different applications, such as:
Long-Term Use

If your business is growing, you may need more space for storage. This is especially true for restaurants, grocery stores, pharmacies, and similar businesses that require refrigerated storage. However, new walk-in coolers can be costly and take up a lot of time and space to install. Instead, you can opt for a refrigerated container which is more affordable and manageable in place of other permanent cold storage solutions.

Short-Term Use

If you only need refrigerated storage for certain times of the year, buying a reefer unit or walk-in cooler might not be the most practical choice. However, you can still take advantage of refrigerated containers on a temporary basis. USA-Containers offers easy rental options for refrigerated shipping containers. If you need extra cold storage for your business during busy seasons or special events, you can rent the units you need from USA-Containers.

Reliable Refrigerated Transport

Perishable foods and products require a cold environment to stay fresh and preserved. However, regular trucks and containers are not safe for transporting these goods. Refrigerated containers, on the other hand, are designed to do so safely. A reefer's strength, durability, and climate control can ensure that your delicate or perishable items stay fresh and safe during transport, no matter the distance.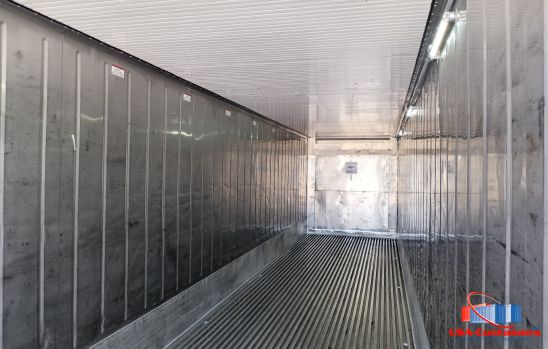 Rent or Purchase? The Choice is Yours!
USA-Containers offers the best refrigerated containers in Southaven MS to rent or purchase. We have a wide selection of high-quality reefers available in various sizes to suit different needs. For example, our Ice-Cubz containers are perfect for those who require cold storage for outdoor events or catering. Or, for those who prefer to buy a reefer, we offer customization options like smart temperature controls, roll-up doors, interior shelving, and more.
Call Today
Nowhere can you find a greater selection and better deals on refrigerated containers in Southaven MS than with USA-Containers! To learn more about our reefer purchases and rentals or our dry and custom container offerings, contact us at 877-391-4064. Our main office is located at 1069 Township Road 1950 East, Smithshire, IL 61478, serving clients throughout the United States.