Select from the Best Refrigerated Containers in Wisconsin
Nowhere are refrigerated containers more in demand than in the Badger State; however, finding the right reefers for an affordable price isn't a simple task. Thankfully, USA-Containers takes care of the hard part for you, offering direct sale and rental of refrigerated containers in Wisconsin. If you need a way to store or transport produce, pharmaceuticals, electronics and other perishable or delicate goods, a reefer is what you're looking for!
Who Benefits the Most from Reefers?
You'd be surprised how many businesses require cold storage for daily operations. There are even a non-insignificant number of hobbyists utilizing reefer units. However, when it comes to meeting the demands of key industries, refrigerated containers are primarily used by several business types. For example, the businesses that most benefit from reefers include:
Food Distributors
Food/Meat Processing
Grocery Stores
Restaurants
Medical Facilities
Pharmacies
Electronics Manufacturers
Florists
How Long Do You Require Cold Storage?
Depending on your personal or business needs, cold storage expansion might only be temporary. Thankfully, USA-Containers prepares for clients only needing extra cold storage for shorter periods. Whether you're looking to rent or purchase refrigerated containers in Wisconsin, USA-Containers has you covered.
Reefer Purchase – The installation process can be long and expensive when a business requires expanded or updated cold storage. Purchasing permanent cold storage units, not to mention the renovation required to install walk-in coolers and freezers, can be a significant investment. In comparison, reefer purchase is a more manageable venture. Refrigerated containers don't require special set-up, are built-ready to function and can be operational hours after delivery.
Reefer Rental – Reefer purchase is off the table if you only need to expand cold storage temporarily. Thus, USA-Containers offers refrigerated container rental for all sizes of storage units. Rental works best if you're looking to save money and know you only need expanded storage over short periods. Additionally, for more convenient rentals, USA-Containers offers our specialized Ice-Cubz containers. These smaller reefer units are the perfect rentals for any outdoor or catering event.
Check for More
Refrigerated containers aren't the only shortage units USA-Containers offers for rent or purchase. We also supply an extensive selection of dry shipping containers of varying sizes. Dry containers are large and durable storage units that keep contents dry, safe and secure. Additionally, dry storage containers can be customized to meet clients' unique needs. For example, we've transformed custom shipping containers into concession stands, office units, cattle pens, and grow rooms.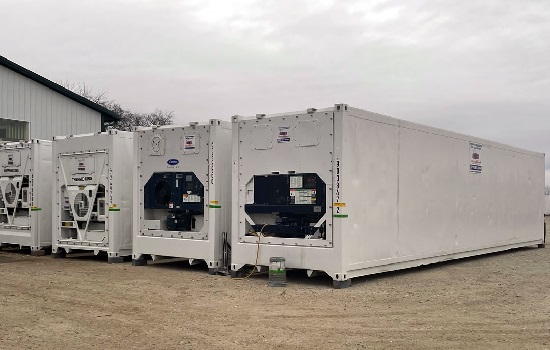 Talk with Our Team
If you are having trouble tracking down high-quality and affordable refrigerated containers in Wisconsin, allow the professionals at USA-Containers to lend a hand. We offer the best reefer units for rent or purchase throughout the country. To learn more about our refrigerated or dry storage containers, call today at 877-391-4064. We are located at 1069 Township Road 1950 East, Smithshire, IL 61478.