If Looking for the Best Refrigerated Containers in Milwaukee, WI, You're in Luck!
While Wisconsin is known for its abundance of cheese and dairy products, it sometimes lacks the one item crucial to preserving such goods: reliable refrigerated storage. Options for permanent cold storage can be expensive, while portable cold storage is challenging to find. Thankfully, USA-Containers has the solution to your cold storage needs: we offer the widest selection of available refrigerated containers for Milwaukee WI. Call today to discuss options of reefer unit rental or purchase.
Why Choose Refrigerated Containers?
Rather than installing new walk-in freezers and coolers, many business owners are choosing to rent or purchase reefer units instead. And with the benefits refrigerated containers have over traditional cold storage, it's no wonder so many businesses are making the switch!
Easy Transportation

While walk-in coolers are reliable cold storage units, there's one thing they can't do that refrigerated containers can do: move. For industries that require the transportation of perishable goods, reefer units are the only option! Thankfully, USA-Containers offers a wide selection of reefers of varying sizes. Whether restocking your restaurant or setting up refrigeration for an outdoor event, a refrigerated container works best.

Secure & Convenient Storage

Even if you're not moving perishable goods, refrigerated containers provide a secure and convenient means of storage. For example, if facing a higher volume of customers, you need a fast and easy way to set up more cold storage for surplus supplies. However, rather than shutting down your facility to upgrade or install cold storage, you can utilize a reefer instead! Reefers are available to use within hours of delivery.

Affordable Investment

One of the major points of contention for businesses looking to install new cold storage is the price for doing so. Not only does the equipment cost a significant amount, but costs for facility updating or expansion can add up. And if you must have your existing cold storage down for periods during renovation, you cannot safely keep products and continue business operations. Conversely, a refrigerated container is one price to purchase or rent without extra costs.
Select From the Best!
USA-Containers strives to offer a diverse, high-quality selection of refrigerated containers for Milwaukee WI and throughout the United States. In doing so, our clients can purchase or rent reefer units of varying sizes and degrees. Additionally, for those interested in purchase, we have multiple customization options for each unit (interior shelving, roll-up doors, etc.). And for those more interested in rental, our specialized Ice-Cubz containers are perfect for portable cold storage at any outdoor or catering event.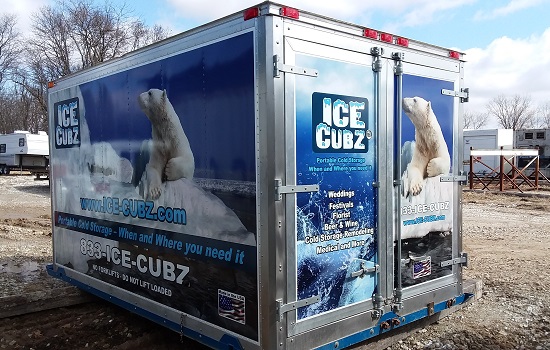 Call Today
If searching for refrigerated containers for Milwaukee WI, the container experts at USA-Containers can help you find what you require. Or, if interested in dry and custom shipping container options, our team can happily oblige! Learn more about our container purchase, rental and customization by calling 877-391-4064. We are located at 1069 Township Road 1950 East, Smithshire, IL 61478.