The Best Refrigerated Containers for Rochester MN Businesses
Are you having trouble tracking down refrigerated containers in Rochester MN? You're not alone! Reefer units throughout the United States are in high demand and sometimes challenging to find for an affordable price. For this reason, USA-Containers is making the effort to find reefers for you! We offer hundreds of refrigerated shipping containers for rent or purchase, helping businesses and individuals more easily find their perfect reefers.
Why Do You Need a Reefer?
Whether for the hobbyist or local restaurant chain, refrigerated containers are incredibly useful and versatile pieces of equipment. If you need to transport perishable goods, keep delicate equipment safe, or require cold storage you can quickly set up anywhere, reefers are for you!
Moving Perishable Goods

Reefers were built to endure harsh weather and overseas travel. As far as transportation across the city or state goes, refrigerated containers can easily handle it. Businesses use reefers to bring perishable or delicate goods to locations otherwise impossible without consistent cold storage. Additionally, refrigerated shipping containers work as portable cold storage, great for outdoor events, concerts, catering, etc.

Secure and Airtight

Reefer containers not only keep goods fresh, but you can keep important or delicate items safe and secure. As refrigerated containers once had to keep seawater and moisture out during transit, they continue to be incredibly resistant to most weather and temperatures. And if your products are best kept in a climate-controlled space, there's nothing outside a reefer that will impact its interior temperatures.

Quick and Affordable

Reefer units are your best bet for those needing to quickly expand cold storage or replace freezers that have quit working. Refrigerated containers are easy to set up and are fully operational within hours. Also, refrigerated containers are considerably more affordable when compared to other cold-storage options. The time and cost it takes to install a walk-in cooler far exceed what you can purchase or rent a reefer for.
Containers for You
At USA-Containers, we have dozens of container options to choose from. If seeking refrigerated containers in Rochester MN, we supply reefers of all shapes and sizes for rent or purchase. Container rental, such as our Ice-Cubz containers, are perfect for businesses only needing temporary cold storage or portable freezers for events. As for reefer purchases, you can customize your container with dozens of options like smart temperature controls, interior shelving, roll-up doors, and more.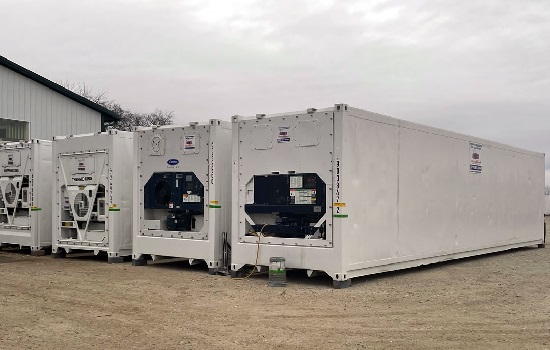 Talk with Our Team
Not only can USA-Containers supply you with refrigerated containers in Rochester MN, but we supply dry and custom containers to clients throughout the United States. To learn more about our products and services, contact USA-Containers today at 877-391-4064. Our main office is located at 1069 Township Road 1950 East, Smithshire, IL 61478, serving clients throughout the United States.