Dependable Refrigerated Containers for Minneapolis MN
As businesses continue to meet consumer demands throughout Minnesota, securing proper cold storage can sometimes be challenging. Thankfully, some companies actively seek and acquire reefer units to be sold or rented at affordable prices. USA Containers is one such company; we strive to make finding refrigerated containers in Minneapolis MN as simple and stress-free as possible.
Best Uses for Your Reefers
Whether for storage, expansion or transportation, reefer containers are some of the most sought-after equipment for industries throughout the United States. No matter your business, you might find the best uses for your refrigerated containers to be:
Extended Storage

As your business begins to grow, your need for space grows too! More storage for restaurants, grocery stores, pharmacies and other similar businesses includes refrigerated storage. Unfortunately, new walk-in coolers are expensive and take considerable time and space to install. Conversely, you can permanently expand your cold storage without expensive installation by purchasing a refrigerated container.

Short-Term Storage

If your refrigerated storage needs are only seasonal, purchasing a reefer unit or walk-in cooler might not be your best option. Thankfully, you can still utilize reefers, but temporarily. Thanks to USA-Containers, refrigerated shipping container rental has never been easier. When you only require extra cold storage for your business's busy seasons or special events, USA-Containers can happily supply you with the units you need.

Cold Transportation

Many foods and products are perishable, meaning they must be kept in a cold space to stay fresh and preserved. However, when it comes to transporting perishable goods, simple dry trucks and containers can't do so safely. Thankfully, refrigerated containers are up to the task. You can rely on a reefer's incredible strength, durability, and climate control to keep your delicate or perishable goods fresh and safe wherever you take them.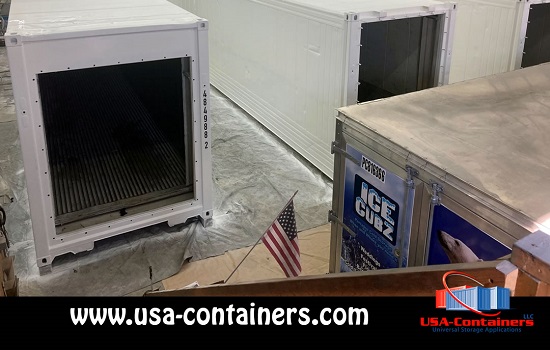 Rent or Purchase from USA-Containers
As already mentioned, customers can either rent or purchase our refrigerated containers in Minneapolis MN. With hundreds of high-quality reefers of varying sizes, we always have the perfect unit for you to choose from. For example, for those who only need cold storage for an outdoor event or catering, our Ice-Cubz containers have you covered! And if you wish to purchase a reefer outright, we offer customization options like smart temperature controls, roll-up doors, interior shelving and more.
Give Us a Call
To find the best refrigerated containers in Minneapolis MN for your business or industry, count on the shipping container experts at USA-Containers! To learn more about our reefer purchases and rentals or our dry and custom container offerings, contact us today at
877-391-4064. Our main office is located at 1069 Township Road 1950 East, Smithshire, IL 61478, serving clients throughout the United States.