Where to Go for Refrigerated Containers in Minnesota
Finding reefers in the North Star State is no simple task, especially with the containers in high demand. Thankfully, USA-Containers has an incredible selection of refrigerated containers in Minnesota and the Midwest. Our containers are for purchase or rent and work best when transporting or storing produce, pharmaceuticals, electronics and other perishable or delicate goods. Call USA-Containers today to find the reefer that best fits your needs!
Businesses in Need of Cold Storage
In truth, more businesses in Minnesota and throughout the United States require cold storage than you might think. Whether for preserving food, medical supplies, or fragile equipment, USA-Containers' reefer units offer the most durability, security and flexibility. Some of the businesses that most rely on cold storage include:
Restaurants
Grocery Stores
Food/Meat Processing
Food Distributors
Pharmacies
Hospitals/Medical Facilities
Electronics Manufacturers
Construction Companies
Florists
And More
Should You Rent or Purchase Your Unit?
Depending on the precise needs of your business, you might require extra cold storage on a temporary or long-term basis. For either scenario, USA-Containers can happily oblige. We offer our reefer units for both rental and purchase. With reefers in high demand, we aim to ensure refrigerated containers are more available to clients throughout Minnesota and the Midwest.
Container Purchase

When you can no longer support the cold storage needs of your business with current walk-in coolers and freezers, a refrigerated container can be an excellent addition to your facility. We offer containers for purchase in multiple sizes and dimensions, so you aren't limited in your cold storage expansion. Furthermore, all our containers come with unique customization options based on what you require for your business. For example, we employ expert metal fabricators who can help install custom roll-up doors and shelving for your unit.

Container Rental

If your cold storage needs are only for seasonal and temporary purposes, reefer container rental is your best option. The same as we offer for purchase, we offer multiple sizes and dimensions of containers for rental. Additionally, we produce unique reefers for special occasions. For example, our Ice-Cubz containers are perfect for catering, outdoor events or festival concessions. And if you need cold storage immediately and more affordably, renting refrigerated containers is the way to go!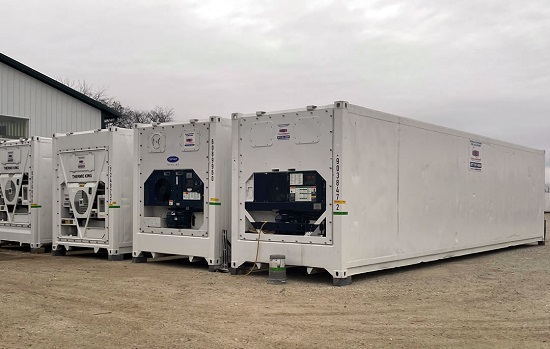 More Than Reefers
In addition to our refrigerated containers for Minnesota businesses, USA-Containers also sells, rents and customizes a variety of dry shipping containers. A dry container is the perfect storage unit for businesses and individuals alike. Moreover, the shell of a shipping container is the perfect base for unique custom projects. USA-Containers can transform any dry shipping container into structures like small offices, concession stands, portable bars, cattle pens, and more.
Call Today
Thanks to USA-Containers' efforts, we are helping businesses overcome the lack of available refrigerated containers in Minnesota. To find the perfect reefer for rent or purchase, talk with the team at USA-Containers today! You can contact us at 877-391-4064. Our main office is located at 1069 Township Road 1950 East, Smithshire, IL 61478, serving clients throughout the United States.