Supplying Needed Refrigerated Containers to Little Rock AR
As shipping demands continue to trouble our ports, shipping containers have become increasingly hard to come by. This is especially true for reefer containers! Thus, USA-Containers has taken it upon ourselves to track down the most reliable sources for refrigerated containers in Little Rock AR and anywhere throughout the United States. Talk with our team today about finding the best reefers to rent or purchase.
Best Reasons for Using a Reefer
While there are dozens of cold-storage solutions for your business, reefer units offer some of the most flexibility, convenience and affordability. Here are a few reasons why you ought to consider refrigerated shipping containers over other cold-storage options:
Easy to Set Up

When a company requires cold storage, the need is sometimes urgent. However, replacing old or broken walk-in coolers can take considerable time and effort. Not to mention, installing a new unit requires extensive construction and space you might not have. Conversely, a reefer container is ready to use on arrival and easy to set up. Within a few hours after delivery, you can begin storing goods in your refrigerated container.

Temporary or Permanent

Whether your cold-storage needs are temporary or permanent, a refrigerated container can easily meet your needs. USA-Containers offers reefers for either rent or purchase, meaning you can rent cold storage on a short-term basis or purchase a unit to keep. Moreover, reefers offer portability that traditional cold storage cannot provide.

The Best Price

As mentioned, installing new walk-in coolers, freezers, and cold-storage units can be considerably expensive. Cold storage can be a significant investment between the unit's price, material fees, labor costs, etc. However, refrigerated containers are your best alternative if you don't have that money to spend. USA-Containers offers our reefers for affordable prices, which get more affordable if you're only looking to rent.
Find What You're Looking For
Not only does USA-Containers make finding refrigerated containers for Little Rock AR easy, but we've helped businesses secure reefers throughout the United States. For rental, our clients can select from dozens of different container sizes. Our Ice-Cubz containers are the perfect rental units for outdoor parties, events, concerts and catering. Or, if purchasing a reefer, we can customize your unit with features like roll-up doors, smart temperature controls, interior cabinets and shelving, and more.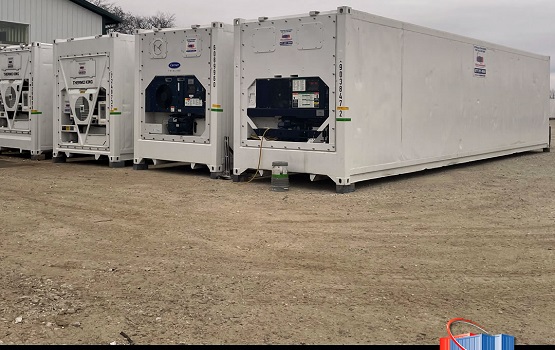 Talk with Our Team
Don't settle for anything less than the best refrigerated containers in Little Rock AR when you trust the container experts at USA-Containers. To rent/purchase a reefer unit or learn more about our dry and custom shipping containers, contact us today at 877-391-4064. Our main office is located at 1069 Township Road 1950 East, Smithshire, IL 61478, serving clients throughout the United States.