Meeting the Demand for Refrigerated Containers in Arkansas
Businesses look for ways to conveniently transport and store produce, pharmaceuticals, electronics, and other perishable or delicate goods throughout the Natural State. One such method, using refrigerated containers in Arkansas, is the most popular choice. And for individuals seeking secure, affordable, high-quality and customizable reefer containers, USA-Containers has you covered! We offer our refrigerated shipping containers for either rent or purchase.
Who Uses Reefers?
Refrigerated containers have multiple applications for businesses throughout Arkansas. Whether preserving foodstuffs or protecting sensitive electronic equipment, a reefer can offer easy transportation within a climate-controlled box. Examples of some of the businesses that rely on rented or purchased reefer units include:
Pharmacies
Hospitals/Medical Facilities
Florists
Electronics Manufacturers
Food/Meat Processing
Food Distributors
Restaurants
Grocery Stores
Construction Companies
And More
Should You Rent or Purchase?
The question on every business owner's mind: do you require a temporary solution to cold storage or a permanent one? Depending on your facility's precise needs, such as seasonal storage or long-term expansion, USA-Containers can match you with either container rental or purchase. Both options provide unique benefits that assist in your business's effective function and operation.
Reefer Rental – Many businesses that see an uptick in sales during summer or require climate-controlled transportation for seasonal events rely on refrigerated container rental. We offer all sizes of reefer units for rental, with unique options like our Ice-Cubz containers for outdoor parties and events. Not only is container rental best for temporary cold storage, but it's faster and more affordable than outright purchase.
Reefer Sale – Purchasing a container might be your best option if your reefer needs extend beyond one or two seasons a year. Thankfully, USA-Containers can secure high-quality refrigerated containers much faster than other container companies throughout the States. Additionally, we employ expert metal fabricators to customize reefer units with extras like roll-up doors and interior shelving.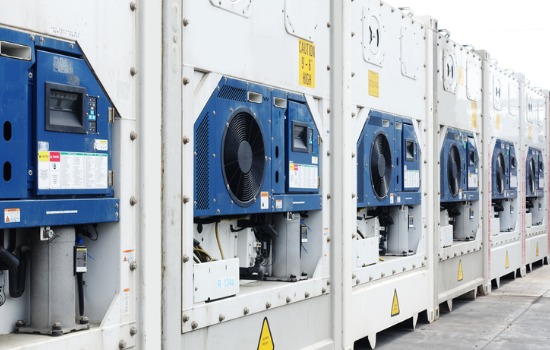 Other Container Options
If you aren't in immediate need of refrigerated containers in Arkansas, you might instead be interested in dry shipping containers. USA-Containers' selection of dry containers can benefit the storage needs of any business or individual. Also, our previously mentioned metal fabricators work diligently to complete custom design projects for clients seeking dry containers for unique functions. For example, we've turned dry containers into structures like animal pens, outdoor sheds, grow rooms, offices, concession stands and more.
Call Our Office
Ensure your search for refrigerated containers in Arkansas is a success with help from the professionals at USA-Containers. Our team can set you up with the best reefer units to rent or purchase for your facility. Learn more about our container options by calling 877-391-4064. Our main office is located at 1069 Township Road 1950 East, Smithshire, IL 61478, serving clients throughout the United States.