Where Can You Go for Refrigerated Containers in Fayetteville AR?
Managing the preservation of perishable goods throughout the United States requires significant volumes of cold storage. However, installing new walk-in coolers can take considerable time and money, and reefer units aren't always easy to find. Thankfully, USA-Containers is the answer to your cold-storage woes. We supply refrigerated containers for Fayetteville AR, and industries across the country, ensuring simple rental or purchase of our units.
Best Utilizing Your Reefers
Refrigerated containers can be used for a wide variety of applications across multiple industries. Whether you need to transport perishable goods long distances, wish to keep up with consumer demands, or require secure and climate-controlled storage, a reefer might be right for you.
Transporting Perishable Goods

Refrigerated containers can do anything traditional cold-storage units can do and more! For example, reefers are the only cold-storage units to transport perishable goods long distances safely. Refrigerated shipping containers were designed to travel across the sea, meaning they work just as well when transporting food or medicine across state lines.

Temporary or Permanent Storage Solution

When you don't need extensive cold storage for long periods, it's best to invest in a reefer unit. Rather, you ought to rent a reefer from USA-Containers! Refrigerated container rental is perfect for businesses with busier warm seasons or seasonal outdoor events and functions. And if you still need cold storage once the warmer months have passed, it's just as easy to purchase your unit from USA-Containers.

Durable and Long-Lasting Storage

Although your traditional storage units come in all shapes and sizes, refrigerated storage has the advantage of adding climate control to your storage capabilities. Although standard dry containers or storage lockers/units work great for keeping goods out of the weather, extreme heat or cold can still affect a container's contents. Conversely, reefers are temperature-controlled, ensuring delicate goods and products stay safe and secure for long periods.
How USA-Containers Can Help
If you're in the market for refrigerated containers in Fayetteville AR, you likely know how difficult it can be to find containers of decent quality and affordable prices. Thankfully, USA-Containers is here to help! We partner with companies, suppliers and manufacturers throughout the U.S. to ensure we have the best selection of reefers for rent or purchase. You can rent our Ice-Cubz containers, perfect for parties and events, or purchase a reefer and have us customize it to your heart's content!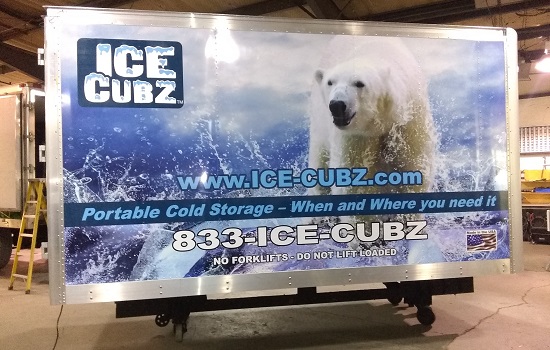 Learn More
If you're interested in expanding your company's cold-storage capabilities, consider the incredible flexibility and affordability of refrigerated containers in Fayetteville AR. To learn more about reefer rental/purchase or if you're interested in USA-Container's dry and custom shipping containers, call
877-391-4064. Our main office is located at 1069 Township Road 1950 East, Smithshire, IL 61478, serving clients throughout the United States.