Discover High-Quality, Affordable Refrigerated Containers in Augusta GA
No matter where you are in the United States, finding proper reefers can be a challenging prospect. Especially in Georgia, where reefers are always in high demand, you can sometimes come up short! Thankfully, with support from the container experts at USA-Containers, LLC, securing refrigerated containers in Augusta GA and throughout the state is made easy. Talk with our team today to discover the incredible refrigerated shipping containers for sale or rent you can choose from.
Standout Features of a Reefer
At USA-Containers, LLC, we understand the value of refrigerated containers and their exceptional capabilities in various industries. We strive to assist our clients in finding the ideal reefers to fulfill their refrigeration needs. Our refrigerated units are versatile and have proven helpful in a range of applications, such as:
Reliable Refrigerated Transportation

If transporting perishable goods, there are several effective ways to do it. The key is keeping your goods cold and fresh during transportation, which requires high-quality cooling equipment that can handle long distances. Fortunately, refrigerated containers are the perfect solution for this. Regardless of the distance you must travel, reefers can effectively manage the task. Transportation of perishable goods to any event is possible with a reefer unit.

Safe and Secure Storage

When it comes to safety and security, a giant steel box is hard to beat. Reefer units are secure and airtight, making them near impenetrable. This extends beyond just people and possessions to the unit's air and temperature. Refrigerated units are carefully sealed to guarantee the preservation of perishable items like produce and pharmaceuticals, regardless of external conditions.

Affordability in Rental and Purchase

Expanding cold storage by adding a walk-in freezer to your facility can be a costly endeavor, between initial installation, cooler downtime, and upkeep costs. Conversely, opting for a reefer, whether through rental or purchase, can offer a more affordable solution without costly facility renovations or extra maintenance fees.
Finding the Perfect Match!
USA-Containers, LLC strives to cater to our client's commercial cooling needs by providing various solutions for renting, buying, or customizing refrigerated containers in Augusta GA. Our extensive range of reefers includes multiple sizes and specialty units like our Ice-Cubz containers. We also offer customization options such as roll-up doors, interior shelving, and specialized temperature controls. And if reefers aren't enough, we also have a vast selection of standard and custom dry shipping containers.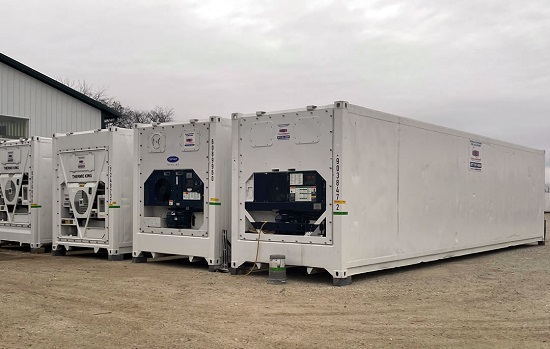 Call Today
USA-Containers, LLC can assist you in easily finding the best refrigerated containers in Augusta GA. Our shipping container experts can help you choose the right reefers for renting or buying. To learn more about our refrigerated or dry storage units, contact us at 877-391-4064. We are located at 1069 Township Road 1950 East, Smithshire, IL 61478.