Make Use of Refrigerated Containers in Atlanta GA
Due to current shipping restrictions and delays abroad, it has become difficult for potential buyers to find shipping containers and portable storage of any kind. The scarcity is even worse for refrigerated containers. However, USA-Containers, LLC is committed to providing a wide range of refrigerated containers in Atlanta GA to rent or purchase. When looking for a reefer unit in Georgia, you can rely on USA-Containers, LLC!
Why Rely on Reefers?
Although dry shipping containers are great for storage, refrigerated containers have distinct advantages. Reefer units were explicitly created to transport large quantities of perishable items over long distances, providing benefits that traditional shipping containers cannot offer. Some of these benefits include:
High-Quality Permanent or Temporary Storage

If you need a temporary or permanent cold storage solution, refrigerated containers in Atlanta GA can be your answer. For example, reefers offer ample freezer space for restaurants to keep up with customer demands. Additionally, businesses like florists or grocery stores can easily and affordably rent a reefer unit during busy times to accommodate their inventory overflow.

Excellent Shipping Capacity

Refrigerated containers are unrivaled when it comes to the transportation of perishable goods. They are primarily mobile cold storage, ensuring goods' freshness, safety, and security during long-distance hauls. Even for intra-city transportation, reefers are the ideal choice. These containers are widely used by food manufacturers, grocers, and healthcare facilities for transportation purposes.

Cost-Saving Benefits

When it comes to cost-effectiveness, opting for reefer units can be a more economical choice than installing cold storage. Installing new freezers or walk-in coolers in your facility can be expensive, requiring costly facility upgrades and expansions. On the other hand, purchasing or renting refrigerated storage is a much more affordable option, and units can be ready to use as soon as they are delivered.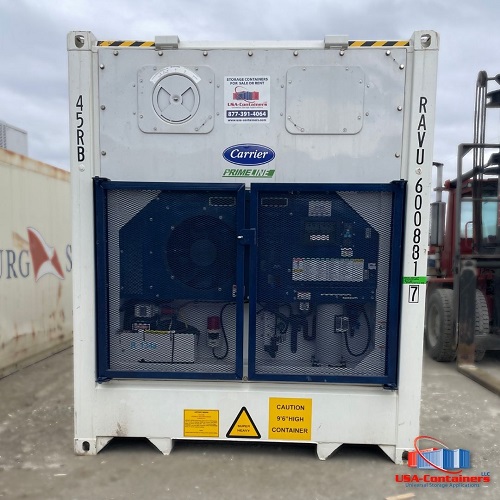 Reefers and More!
At USA-Containers, LLC, we work with buyers and sellers nationwide to address the shortage of refrigerated containers. Our partnerships with shipping companies and manufacturers enable us to build a diverse range of reefer units available for rent or purchase. We also provide specialized reefers called Ice-Cubz, which are perfect for outdoor and catering events. Otherwise, if you're not in the market for reefers, we offer a selection of dry shipping containers that can be rented, purchased or customized to suit your needs.
Give Us a Call
USA-Containers, LLC can help you easily find refrigerated containers in Atlanta GA. We offer top-quality reefer units for rent or purchase, and our team is ready to assist with customization options. Contact us today at 877-391-4064 to learn more about purchasing, renting, or customizing reefer units. We are located at 1069 Township Road 1950 East, Smithshire, IL 61478.