Secure Affordable, High-Quality Reefers in Florida
If there's one thing businesses need in the Sunshine State, it's commercial refrigeration! Keeping perishable goods safe and fresh is important for numerous industries. However, different stores and facilities often have different cold storage needs. Thus, finding the best cold storage solution is essential for local business owners. And if concerned over price or convenience, why not consider the benefits of reefers in Florida? Reefers can provide the perfect amount of refrigeration for your business without you having to break the bank! Call USA-Containers today to see the types of refrigerated containers we have available.
Why Should You Consider a Reefer?
Reefers, or refrigerated containers, are durable, long-lasting, portable cold storage units. Reefers are built tough and can withstand hazardous weather conditions while in transit overseas. However, reefers have even more benefits for those wishing to use them on land! It's worth considering a reefer for your business if your concerns are:
Managing Extra Storage Space

Do you have all the space you need for cold storage? Or do you find yourself fighting to fit everything into your walk-in freezer? Instead of replacing or expensively expanding your existing commercial refrigeration, reefers provide a simple, more affordable solution for managing your storage space. And with multiple refrigerated container sizes available, you aren't limited in space expansion.

Providing Refrigeration for Non-Traditional Locations

You'd expect to see a walk-in freezer or cooler in a restaurant, grocery store, food processing facility, pharmacy, etc. However, food and perishable goods storage away from commercial sites is significantly more challenging to manage. Thankfully, reefers are the perfect solution when bringing refrigeration to non-traditional locations. This way, reefers see usage at outdoor events, festivals, wedding catering, etc.

Taking Cold Storage on the Road

Sometimes, having cold storage at one location isn't enough! After all, there is an abundance of industries that must be able to move their goods across the country. Unfortunately, without the right equipment, such secure transportation is impossible. However, transporting perishable/delicate goods is feasible with a reefer! With the right trucks, trailers and hookups, our reefers make for exceptional portable cold storage.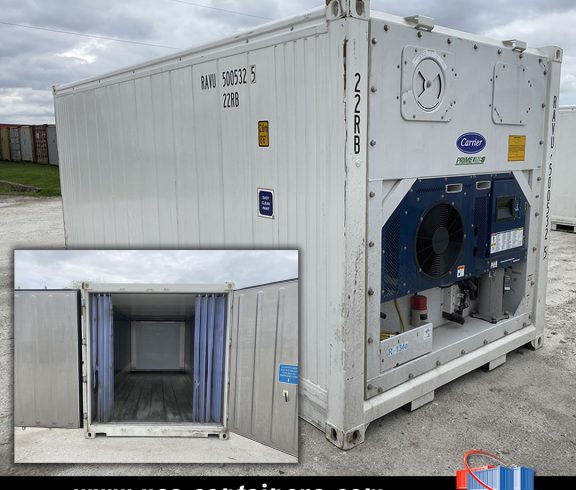 Find What You Need with USA-Containers
If reefers in Texas are what you're interested in, you'll want reefers that match best with your business's budget and refrigeration needs. For example, USA-Containers offers our refrigerated containers for either rent or purchase. For the business owner interested in doing some off-site events that require a bit of commercial refrigeration, our rentable Ice-Cubz containers are always an excellent choice. Or, if you need to update your facility's cold storage capacity, purchasing one of our larger reefers and having it customized might be a better option. At USA-Containers, we're all about giving our clients the most options.
Call Today
When you and your team are ready to invest in reefers in Florida, ensure you're only selecting from the best! Talk with the container experts at USA-Containers today. To learn more about our refrigerated, dry shipping, and custom container options, call 309-325-7201 or fill out our online request form. USA-Containers serves clients throughout the United States.