Can Reefers in California Manage Your Cold Storage Needs?
Cold storage has exceptional benefits and capabilities, whether for personal use or as a part of a commercial facility's operation. However, purchasing and installing walk-in coolers or freezers can be costly and limit you to one location. For this reason, individuals and businesses throughout the Golden State require efficient cold storage that's both affordable and versatile, which reefers can provide! Best of all, it's never been easier to find reefers in California, thanks to USA-Containers' incredible selection of high-quality refrigerated containers for rent or purchase.
Your Cold Storage Solution!
Thanks to reefer containers, there's plenty your business can protect and preserve. The size and portability of refrigerated containers do not limit where you can provide commercial refrigeration. Some of the problems USA-Containers' reefers most help resolve include:
Lack of Space – As your business grows, so do your customer demands! And if your organization sells or uses perishable goods, having appropriate refrigeration ensures you can keep up. Unfortunately, expanding walk-in cooler space can prove difficult and expensive. A less problematic, quicker solution to your lack of refrigeration is the addition of refrigerated containers.
Transportation Logistics – Getting your perishable goods from one location to the next, no matter the distance, can prove challenging without proper transportation. Thankfully, a reefer container can carry your delicate and perishable products with the right trailer additions.
Refrigeration Wherever – How can outdoor events and festivals be successful without food and drink? Moreover, when events are away from proper cold storage, how can you expect to safely serve goods without spoilage? The answer is simple: reefers! With access to the right hook-ups, our refrigerated containers can be set up almost anywhere. With a reefer, you aren't limited to one location in terms of cold storage.
Budget Concerns – While commercial refrigeration is essential for many businesses, installing new cold storage isn't cheap. Not only are walk-in coolers outright expensive, but the renovation necessary for installation can significantly strain your budget. Conversely, reefers are more affordably priced than traditional cold storage and don't require additional set-up or installation.
Reefers, Shipping Containers & More!
As essential as reefers in California are for many businesses, there's plenty more you can find with USA-Containers. We provide dry shipping containers for those interested in expanding their storage. Otherwise, we can customize your shipping container, creating unique rooms or structures perfect for various purposes. For example, we've helped construct offices, bars, animal pens, grow rooms and more using our shipping containers. Best of all, all our dry and refrigerated containers are available for rent or purchase. No matter your storage needs or budget constraints, USA-Containers has the containers for you.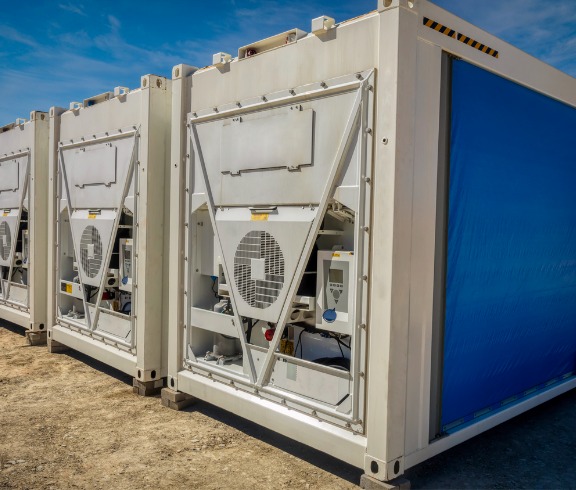 Contact Our Office
If you are searching for an efficient, long-lasting, affordable cold storage solution, reefers in California are your answer! To find the best refrigerated containers for rent or purchase in the Golden State, reach out to the reefer experts at USA-Containers today. Contact us at 866-599-1579 or fill out an online request form for a quote. We serve clients throughout the United States with high-quality reefers and containers to rent or purchase.