You Can Find High-Quality Refrigerated Containers in Chattanooga TN!
Has your business struggled to secure suitable refrigerated containers in Chattanooga TN? Don't worry; you're not alone! Throughout the United States, reefers are in incredibly high demand. While reefer rental is difficult, purchasing refrigerated containers can be near impossible! Thankfully, USA-Containers is looking to rectify the market for shipping containers. We offer hundreds of options for refrigerated containers to rent and purchase.
How You Can Use Your Container
A refrigerated container is a perfect solution to your cold storage needs. Whether you require temporary or long-term storage or portable or in-place units, a reefer can match your and your business. Our clients have purchased and rented our refrigerated containers for reasons such as:
Portable Storage

Transporting perishable and delicate goods is already challenging enough. Without the proper means for keeping goods cool or fresh, don't be surprised if your products become damaged or spoiled! Thankfully, refrigerated containers can be utilized as portable cold storage. Whether you need to transport medicines to a hospital or keep food fresh at an outdoor event, our reefer units provide the support you need.

Emergency Storage

USA-Container's refrigerated container rentals are best when you need cold storage ASAP. For example, if your walk-in cooler or freezer unexpectedly goes out, a reefer can keep your products fresh while your onsite cold storage undergoes repair. Or, if flooding, tornados, hurricanes or other severe weather conditions impact an area, reefers are the best and quickest way to provide disaster relief.

Secure Storage

Refrigerated containers are built tough, durable and secure. Due to the harsh transportation conditions reefers undergo while overseas, they are constructed to handle just about anything. Thus, when using refrigerated containers in Chattanooga TN, you can rely on their strength and security. You can store delicate equipment, crucial supplies, important documents and more in a reefer without fear of damage or break-in.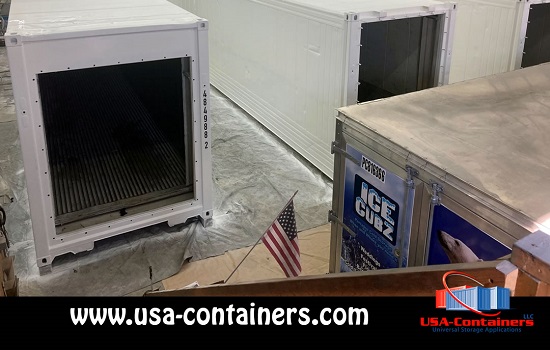 Our Container Options
When selecting one of USA-Containers' refrigerated containers, you have multiple options. Our reefers come in numerous sizes and dimensions, allowing clients to select the unit that best fits their cold storage needs. Furthermore, reefers can be rented or purchased, whether you require temporary or permanent refrigeration. Our rental units are readily available, with specialized containers like the Ice-Cubz best used for outdoor events or catering. For unit purchases, you can select from numerous customization options, such as interior shelving, roll-up doors and more.
Give Us a Call
Don't let your search for refrigerated containers in Chattanooga TN come up empty-handed. Find the perfect reefers to rent or purchase through the shipping container experts at USA-Containers. To learn more about our reefers or other dry and custom containers, contact us today at 877-391-4064. Our main office is located at 1069 Township Road 1950 East, Smithshire, IL 61478, serving clients throughout the United States.