Your Search for Refrigerated Containers in Tennessee is Over!
Reefers are in high demand throughout the US! And for those in the Volunteer State, finding a refrigerated container for an affordable price can be challenging. However, with help from USA-Containers, you can quickly secure refrigerated containers in Tennessee. Our reefers are for rent or purchase and best for transporting or storing produce, pharmaceuticals, electronics, and other perishable or delicate goods.
Who Uses Reefers?
While USA-Containers will rent or sell refrigerated containers to anyone in need, businesses and industries are most often the clients we serve. To support the preservation of perishable and delicate goods, the businesses that most require cold storage capabilities include:
Medical Facilities
Pharmacies
Electronics Manufacturers
Florists
Food Distributors
Food/Meat Processing
Grocery Stores
Restaurants
Short or Long-Term Cold Storage
The beauty of refrigerated containers in Tennessee is their flexibility as either permanent or temporary cold storage solutions. Whether you require a long-term expansion of your cold storage or only need refrigerated containers for a few outdoor events, USA-Containers has you covered.
Should You Rent? – If your cold storage needs are only temporary, reefer rental is your best option. USA-Containers has rented hundreds of units to clients who require short-term cold storage while expanding facilities, moving products, supporting busy seasons, or hosting outdoor events. For events, in particular, USA-Containers offers our unique line of compact reefers, Ice-Cubz containers. Ice-Cubz are the perfect units for any outdoor or catering event.
Should You Purchase? – Those who require long-term cold storage can rely on the longevity and durability of USA-Containers' reefer units. Rather than installing walk-in coolers or freezers, business owners choose refrigerated containers for their affordability, convenience, and immediate access. Additionally, if you prefer your cold storage unit to include more features, our team helps install custom add-ons such as shelving, roll-up doors, computerized temperature controls, etc.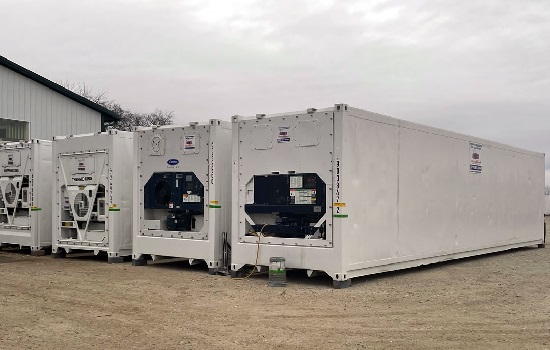 More Than Reefers
Not every business or individual requires refrigerated containers in Tennessee. Sometimes, standard storage is all that's necessary! Thankfully, USA-Containers has you covered with our dry and custom shipping containers. Dry containers are the perfect storage option if you wish to forgo storage facilities and keep your storage needs in-house. Or, your shipping container can be customized for other purposes. USA-Containers' metal fabricators have constructed offices, sheds, cattle pens, concession stands and much more from standard shipping containers.
Learn More
When your business is ready to invest in new or expanded cold storage solutions, you can count on USA-Container's wide selection of refrigerated containers in Tennessee. To learn more about our reefer rental and purchase options, contact us today at 877-391-4064. We are located at 1069 Township Road 1950 East, Smithshire, IL 61478.