Rent or Purchase Refrigerated Containers in Massachusetts
Does your business require cold storage to operate efficiently? You're not alone! Hundreds of business owners throughout the Bay State require reefers for transporting and storing produce, pharmaceuticals, electronics, and other perishable or delicate goods. And with refrigerated containers in Massachusetts in such high demand, it can be challenging to find one, let alone for an affordable price. In response, USA-Containers strives to offer residents and businesses a wide selection of reefers, with options to rent or purchase.
Who Can Use Refrigerated Containers?
Anyone! A versatile, portable, temperature-controlled container can serve the purposes of individuals and businesses throughout Massachusetts. The ability to protect and preserve delicate and perishable goods makes reefers vital to the operation of many industries. Some examples of the businesses we've served with reefer rental and purchase include:
Grocery Stores
Food Distributors
Restaurants
Pharmacies
Electronics Manufacturers
Construction Companies
Florists
Medical Facilities
Reefers Matched to Your Needs
Do you need refrigerated containers primarily for outdoor events? We have specialized containers that can help! Don't want to break the bank by purchasing a new reefer? Why not try rental? At USA-Containers, we work diligently to match you with the reefer rental or purchase that best fits your personal or professional needs.
Reefer Rental – USA-Containers offers our best reefers to rent for businesses not needing cold storage for long and not wanting to purchase a container outright. Our reefers are available in all sizes, with new single-phase chiller options. Our Ice-Cubz Containers, for example, provide exceptional portable cold storage for outdoor events and are easy to set up and operate!
Reefer Purchase – For cold storage you'll need longer than a season, reefer purchase is the route you should take. Many of the same containers we offer for rent, you can also purchase. Additionally, our team can customize your reefer, providing interior shelving, roll-up doors, smart temperature controls, single-phase chillers, and more.
USA-Containers' Best
In addition to our refrigerated containers in Massachusetts, USA-Containers also supplies high-quality shipping containers for storage. We can source shipping containers across the U.S., ensuring every box is safe, secure, and built to last. Not to mention, our expert metal fabricators on staff can help transform steel containers into incredible custom structures, such as offices, cattle pens, concession stands, grow rooms and more.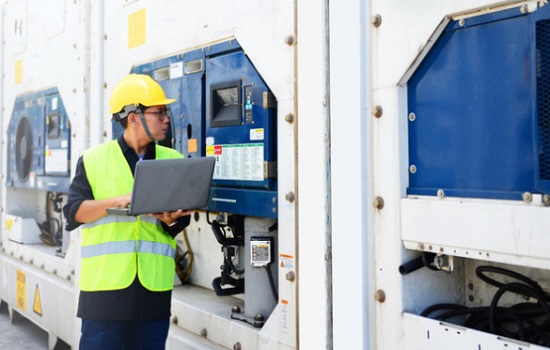 Call Today
There's no need to be concerned about your facility's cold storage capabilities. With the addition of refrigerated containers in Massachusetts, you can take control of your commercial refrigeration quickly and affordably. To learn more about our reefers, dry shipping containers or custom containers, contact USA-Containers at 866-599-1579 or fill out an online request form. USA-Containers serves clients throughout the United States with high-quality reefers and containers to rent or purchase.