Do You Need an Urgent Cold Storage Solution? Consider Reefers in New York
Countless businesses nationwide require safe, efficient, and long-lasting cold storage solutions. Whether a small flower shop, a local pharmacy, or a big-name restaurant, temperature-controlled storage is essential to the success of your business. However, with traditional commercial refrigeration, finding effective cold storage that's affordable, easy to install, and ready to use can seem impossible. For these reasons, business owners turn to reefers in New York and across the U.S. to resolve their cold storage needs. Call USA-Containers today to learn more!
What's So Special About Reefers?
Refrigerated containers, or reefers, are always in high demand! A reefer offers a unique cold storage solution that matches and outpaces traditional temperature-controlled storage. From reduced costs to reefer portability, here are some of the reasons why businesses prefer refrigerated containers:
Versatility – Reefers are perfect for a wide variety of industries and businesses. Whether used to store a company's overflow, protect and preserve goods, or provide cold storage outside your facility, refrigerated containers give business owners plenty of options for their cold storage needs.
Portability – A refrigerated container can be picked up and placed anywhere with a reliable electrical connection (or access to a generator). Thanks to reefers, your company can expand its services to areas where permanent cold storage typically isn't found, such as outdoor fairs, weddings, and live events.
Security – Nothing is getting in or out of a reefer! Refrigerated containers are built tight, tough and secure, made from high-quality steel. If you need a temperature-controlled space that keeps your goods cool and protects them from potential damage and theft, reefers are for you.
Convenience – No other cold storage solution can be set up and running as quickly as a reefer. Standard commercial refrigeration, such as walk-in coolers and freezers, takes significant time to install. Conversely, as long as you have consistent power to your reefer, it can be operational in a matter of hours.
Affordability – There's a heavy price to pay for traditional commercial refrigeration. The equipment is expensive, and the required labor and materials to install your new refrigerated storage will monetarily set you back. On the other hand, reefers are more affordable and don't require paying for installation.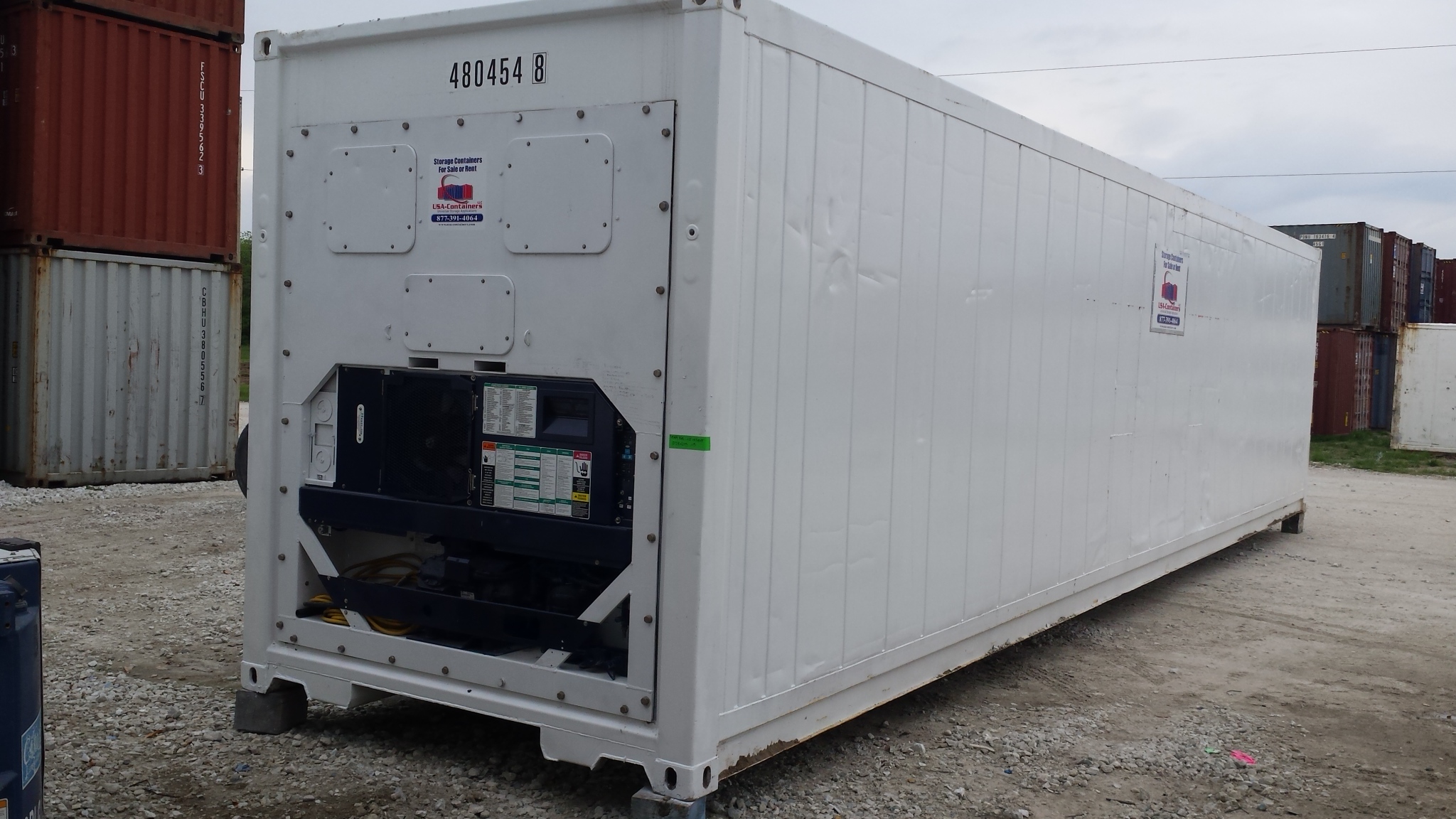 High-Quality Refrigerated Containers for Rent or Purchase
Even with the price difference between traditional commercial cold storage and refrigerated containers, reefers in New York are still a significant investment. For this reason, USA-Containers offers our expansive selection of reefers to rent or purchase. Those choosing reefer rental might only need expanded cold storage for their business's busy seasons or to provide refrigeration for events like outdoor weddings, festivals, or country fairs. Otherwise, if buying a refrigerated container is within your budget, USA-Containers can include customization options for an additional cost, such as interior shelving, roll-up doors, smart temperature controls, etc.
Talk with the USA-Containers Team Today!
Whether expanding your existing cold storage or investing in commercial refrigeration for the first time, USA-Containers supplies the best reefers for New York businesses to grow and succeed! To learn more about our refrigerated container rentals and purchases, or if interested in our dry and custom shipping containers, call 866-599-1579 or fill out an online request form for a quote. USA-Containers serves clients throughout the United States.