Find Reliable Refrigerated Containers for Lansing MI Through USA-Containers
Have you or your business had trouble finding the right cold storage solution? You're not alone! Cold storage is necessary for many businesses but isn't the easiest to afford or install. Even opting for refrigerated containers in Lansing MI has proven challenging, as these containers are in high demand. Thankfully, USA-Containers has the means and connections necessary to find clients the reefer units they require. Talk with our container experts today about purchasing or renting portable cold storage.
What's to Love About Reefers?
Cold storage such as walk-in coolers or freezers allows your business to store large amounts of perishable goods without fear of contamination or deterioration. However, as mentioned previously, permanent cold storage isn't the easiest investment for every business. Thankfully, refrigerated containers for Lansing MI offer a convenient and more affordable cold storage solution.
Easily Move Goods

While reefers and walk-in freezers serve the same purposes, one major difference exists between the two: one's portable, and the other isn't! For some businesses, portability is a necessity when selecting appropriate cold storage. Every reefer unit is designed to transport perishable and delicate goods over long distances safely. Reefers also enable businesses to bring cold storage to places otherwise without (concessions, catering, festivals, etc.)

Simple Set-Up

Installing new cold storage for your facility can take significant time and effort. Because you are creating an entirely new room in your facility, the installation and set-up of walk-in freezers isn't something that's done overnight. Conversely, reefer units can be up and running within hours after delivery. Refrigerated containers are self-contained refrigeration, meaning you can have reliable cold storage without the hassle of a lengthy installation process.

The Best Price

Above all else, many businesses choose refrigerated containers over permanent cold storage due to their difference in cost. Not only can walk-in freezer hardware be expensive to install, but updating your facility to include permanent cold storage can cost you extra. Thankfully, you only pay one price for a reefer unit, which is comparably lower than other cold storage solutions. Businesses can save even more money if they rent their reefer instead.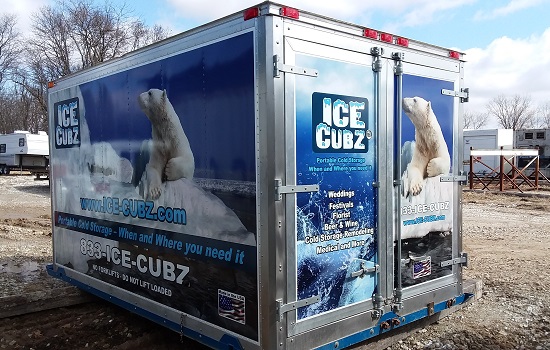 What Are Your Reefer Preferences?
Do you need a long-term cold storage solution? Are your cold storage needs only seasonal? Will you need greater access than standard reefers provide? USA-Containers helps clients by offering refrigerated containers to best fit your preferences. If purchasing a container, we can customize it with features such as interior shelving, roll-up doors, smart temperature controls, and more. Or, if you only need cold storage for a short time, we offer reefer rentals, with our Ice-Cubz containers specially designed for outdoor events and catering. There's no limit to the refrigerated containers you can find with USA-Containers.
Learn More
Select from the best refrigerated containers for Lansing MI when you talk with the reefer experts at USA-Containers. Or, to learn more about our other dry containers, custom containers, and rental container options, call us at 877-391-4064. We are located at 1069 Township Road 1950 East, Smithshire, IL 61478.