Don't Fret Finding Cold Storage; Rent or Purchase Refrigerated Containers in Evansville IN
Cold storage is a necessity for many businesses throughout Indiana. However, expanding your cold storage capabilities can prove challenging and expensive if you aren't prepared. Furthermore, finding temporary cold storage solutions isn't as simple as you might think. Thankfully, USA-Containers helps businesses find refrigerated containers in Evansville IN to fit their needs. If interested in purchasing or renting reefer containers, reach out to USA-Containers today!
What are Reefers Used For?
As is the same for any commercial refrigeration unit, the purpose of a refrigerated shipping container is to keep perishable goods in a safe and temperature-controlled environment. As such, refrigerated containers are incredibly versatile, used for such tasks as:
Transporting Goods – Shipping containers, refrigerated or dry, are staples of the overseas shipping industry. However, reefers can be used to transport goods well beyond entry ports. A sturdy reefer is the best way to transport large amounts of perishable goods throughout Indiana and across state lines for some businesses and industries.
Preserving Goods – Do you have a walk-in storage unit malfunctioning? Perhaps it's the middle of the busy season for your restaurant? In either instance, you need quick access to a significant amount of temperature-controlled storage. As such, refrigerated containers in Evansville IN fit the bill. Reefers are best for preserving food products, medicine, delicate electronics, and more.
Emergency Response – Sudden weather events and natural disasters can happen without a moment's warning. For Midwesterners, tornadoes make up some of our most damaging natural disasters. In the unfortunate scenario a town is struck by a natural disaster, businesses, city government and first responders need tools and equipment to assist victims. Refrigerated containers are one such tool, providing a means for keeping and moving food and medicine crucial to recovery efforts.
Refrigerated Containers for Rent or Purchase
At USA-Containers, we understand how significant a purchase of a reefer can be. And for "temporary" cold storage solutions, you wouldn't need to purchase a container outright. Thus, USA-Containers offers refrigerated containers for rent or purchase. If looking to rent a reefer, we have numerous options for your unit size, not to mention our unique Ice-Cubz containers (perfect for catering and outdoor events). Or, if wishing to purchase your unit, we offer additional customization options such as precise temperature controls, interior shelving, roll-up doors, and more.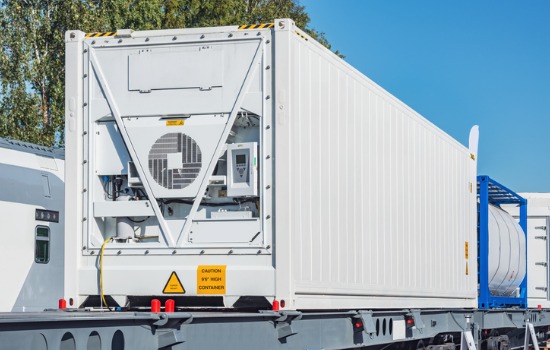 Talk with Our Team
The search for refrigerated containers in Evansville IN is over! Trust the shipping container professionals at USA-Containers for reliable rental or purchase of local reefer containers. Or, if interested in options for dry-storage containers and custom shipping containers, call us today at 877-391-4064. Also, we are located at 1069 Township Road 1950 East, Smithshire, IL 61478.