Trouble Finding Refrigerated Containers for Cleavland OH? USA-Containers Can Help
When looking to add or expand cold storage capabilities to your facility, there are plenty of options. However, depending on what you need your cold storage to do, some options might not be in your best interest. Selecting the right cold storage solution is crucial to the success of your business. Thus, USA-Containers offers a wide selection of refrigerated containers for Cleveland OH, for rent or purchase. Talk with our team today to determine if a reefer is right for you.
Your Reefer's Best Features
While standard walk-in coolers and freezers have their advantages, refrigerated containers have unique benefits too. For example, if convenience, portability and price are major concerns for you, a reefer might be your best option.
Convenience

When installing new cold storage for your facility, it can take time to implement. Planning for construction around your unit can prove challenging if you're not adequately prepared. However, refrigerated containers require no such "additional" installation. As easy as it is to plug in a refrigerator and start using it, that same convenience can be achieved with reefers. Especially if your cold storage needs are urgent, refrigerated containers offer a quick solution.

Portability

Walk-in freezers, while highly effective cooling units, cannot provide refrigeration beyond the confines of their facility. Refrigerated containers differ in that they are completely portable. Whether traveling short or long distances, a reefer can keep perishable goods safe no matter where you go. Furthermore, refrigerated containers allow you to have cold storage where it might typically be impossible. For example, reefers are often used for catering, concessions, festivals and more.

Price

When everything is said and done, installing new cold storage is a significant investment. From costs associated with facility renovation to support a walk-in freezer to the price of the equipment itself, permanent cold storage can quickly add up. Thankfully, refrigerated containers offer a comparable and affordable alternative to standard cold storage. Furthermore, reefer rental is always available if you only require cold storage expansion for a short period.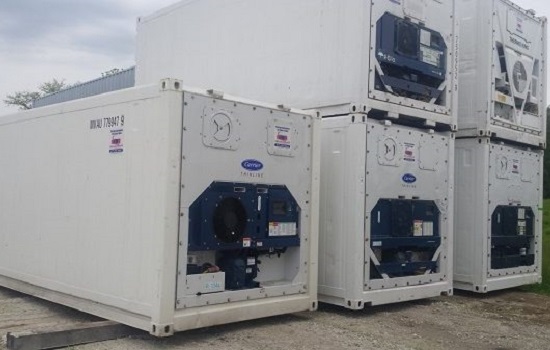 Picking the Right Container
USA-Containers works with countless clients to connect individuals and businesses with the reefers that best fit their needs. Refrigerated containers in Cleveland OH come in multiple sizes, with multiple options for customization. For example, USA-Containers can equip your reefer with interior shelving/storage, precise temperature controls, roll-up doors and more. Or, if you do not wish to purchase a reefer outright, you can rent any of our units. Our specially designed Ice-Cubz containers are the perfect solution for portable cold storage for any outdoor event.
Call Today
Pick out the best refrigerated containers for Cleveland OHwhen you purchase or rent through USA-Containers. To learn more about our reefer units, or to see our selection of dry/custom containers, contact us today at 877-391-4064. We are located at 1069 Township Road 1950 East, Smithshire, IL 61478.