Count on USA-Containers for Refrigerated Containers in Michigan
USA-Containers is the country's leading reseller and renter of standard and custom refrigerated containers. And for those in the Wolverine State, reefers are in high demand! Refrigerated containers in Michigan are perfect for individuals or businesses looking to store or transport produce, pharmaceuticals, electronics and other perishable or delicate goods. Talk with USA-Containers today to request a quote for a reefer purchase or rental.
Who Can Use Cold Storage?
A significant number of businesses in Michigan and throughout the US rely on the capabilities of cold storage. However, if your need for extra storage space becomes too great to ignore, a refrigerated container is the solution! Whether for temporary or permanent cold storage, reefers are the most helpful for the following businesses:
Grocery Stores
Pharmacies
Florists
Food Distributors
Food/Meat Processors
Medical Facilities
Restaurants
Do You Need to Rent or Purchase?
Your business's specific needs for cold storage will determine whether or not you should rent or purchase a reefer. Thankfully, USA-Containers has options for both, including container customization and our unique Ice-Cubz containers.
Container Rental – Renting refrigerated containers is best for businesses looking to expand existing cold storage or needing more storage during their "busy" season. However, rental containers are also helpful for out-of-town or outdoor events that require you to supply products and services outside your facility. Our Ice-Cubz containers make excellent rental units, perfect for catering, weddings, festivals, concerts and more.
Container Purchase – For those who will require refrigerated containers in Michigan for much longer, USA-Containers can sell you units for reasonable prices. Our reefers come in multiple sizes, with options to customize your container before purchase. Our team can equip any refrigerated container with new roll-up doors, updated temperature gauges, interior shelving, and walk-in freezer doors.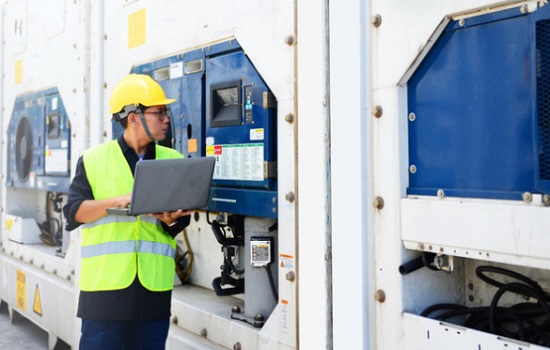 Beyond Refrigeration
Of course, not every business requires the cooling capabilities of refrigerated containers. However, storage space can still be a significant concern for your company! If such is the case, USA-Containers offers extensive options for dry shipping containers and custom units. Our containers protect against moisture, pests, and temperatures, and come in multiple sizes. Furthermore, we can customize units to meet your needs if you wish to utilize shipping containers for uses beyond storage. Our professional welders have turned average shipping containers into fully functioning offices, workshops, animal pens, portable bars, etc.
Discuss Your Options with USA-Containers
At USA-Containers, we know it can be challenging to find the right containers for a reasonable price. Thus, we strive to offer an incredible selection of refrigerated containers to Michigan residents and clients throughout the US. If interested in purchasing or renting a reefer or dry storage container, contact us today at 877-391-4064. Also, we are located at 1069 Township Road 1950 East, Smithshire, IL 61478. Presently, we serve clients throughout all major Michigan metros, including Detroit, Lansing and more.